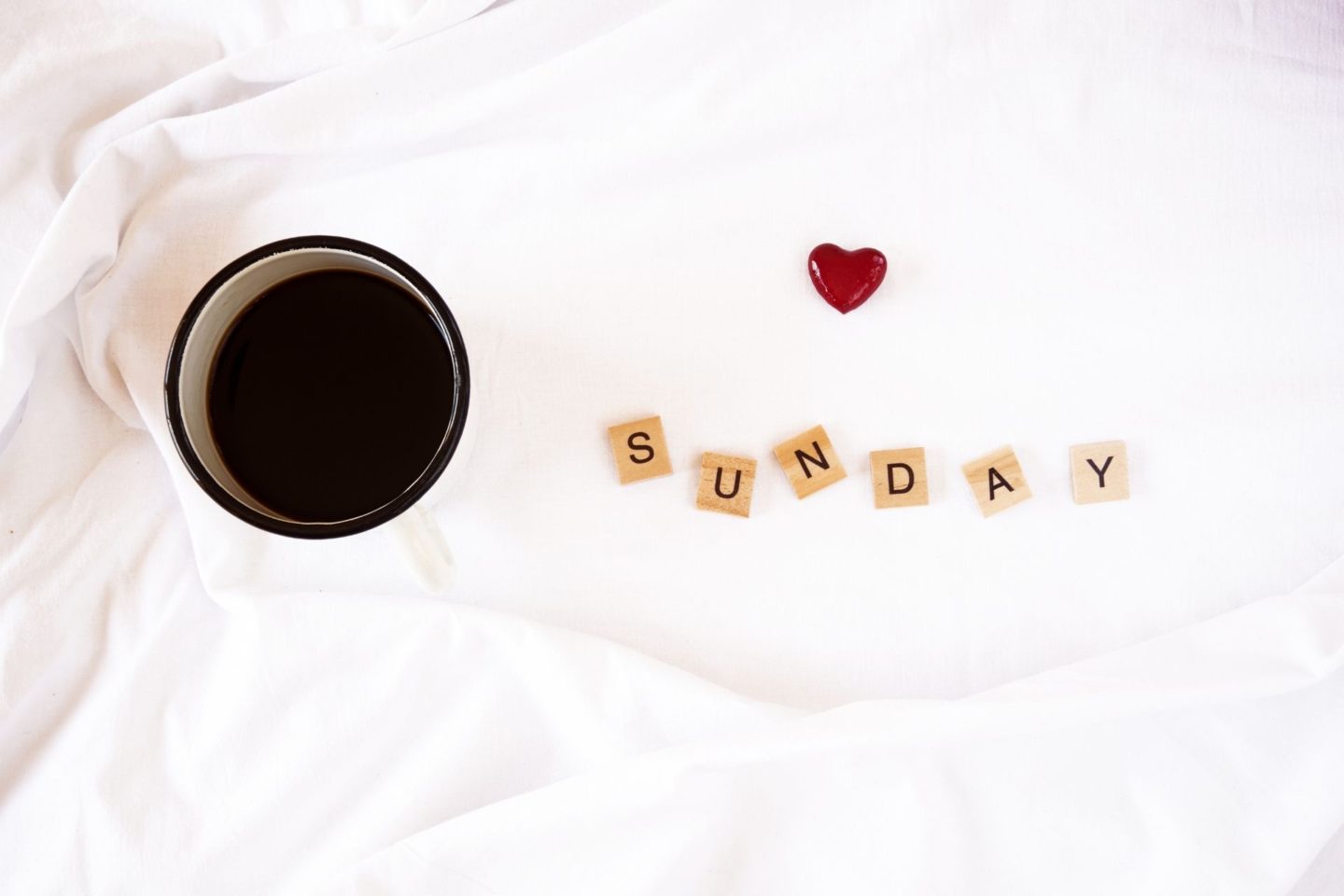 Some people believe Sunday is for lying on the bed in your pyjamas and binge-watching Netflix. For them, a lazy Sunday is a reward for working hard all week long. And I am OK with that. Different people see thing differently. For me Sundays are special; not because it is the end of the week, but I see Sundays as the beginning of a new week. How I spend my Sunday, sets the mood for the rest of the week. So, today I'll be sharing with you my favourite 9 things to do on a Sunday for a wonderful week that will make your life easier.
Best things to do on a Sunday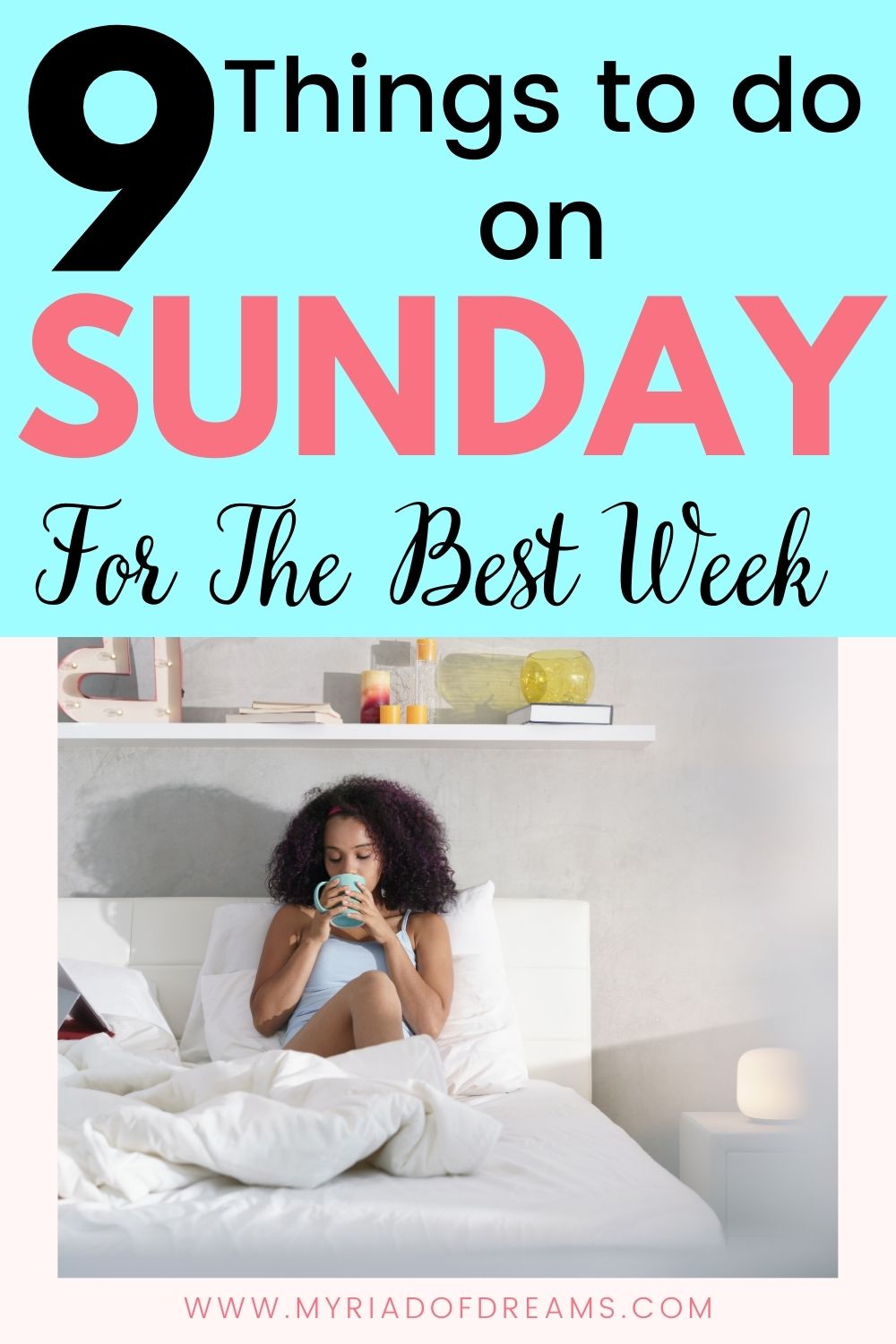 1. Do your laundry
Doing laundry is boring but it is also something you can't do without.
I put the clothes in the washing machine the first thing in the morning on a Sunday, so that my clothes are dry and can be folded properly by the end of the day.
Whenever I do my laundry in the afternoon or evening, my clothes keep hanging on the stand for the entire week.  Don't judge me! My weekdays are busy.
So, basically, by the time I am done with my regular morning routine, my laundry is all ready to be hanged. If required, I run a second load with whites or delicates.
Another reason to add laundry to the top of the list of things to do on a Sunday is that it gives you a sense of accomplishment. You are only done with your breakfast, and you can actually strike off an item from your to-do list. Isn't that great?
2. Meal prep for the week
I love meal prepping!
I am sure you'll love it too, once you start doing it. Trust me, girl, there will be no coming back on this one.
Meal prepping on a Sunday saves so much time.
I cook 3 to 4 dishes simultaneously and store them in BPA free containers in the fridge.
This way I don't have to worry about cooking the entire week and also, I save a lot of money by not eating out.
I know there is something in my fridge to eat when I come home after a long day at work. So basically, I save time, money and nourish my body with healthy home-cooked meals.
One Sunday is enough to take care of your meals for the entire week. Use this day to make your weekdays super chill.
3. Clean the house
Everyone loves a clean house, but hardly anyone has the time to do it every single day.
Sunday is the day for thoroughly cleaning the house.
Clean the windows, declutter your fridge, change the batteries and vacuum your house.
In short, make your house squeaky clean.
Another Sunday ritual I follow is to declutter my workspace and nightstand. I am guilty of stuffing random things in my nightstand drawers and later complaining about how small my drawer is.
So, every Sunday, I make sure to take things out of the drawer and place them where they belong.
Imagine coming home to a clean house on a Monday evening. Ahhhhh! Heavenly feeling.
4. Plan your week
This is one of my favourite things to do on a Sunday.
Planning my week ahead of time and making a to-do list makes me feel in charge of my time.
Remind yourself of any deadlines, parties, unpaid bills or any other important appointment that needs to be taken care of in the following week.
Write it down in your planner and if possible, make prior arrangements.
For instance, you have a party next Friday. Make a list of all the things you need for the party and buy those things when you go for your grocery shopping, instead of making a separate trip to the market on Thursday.
5. Set your weekly budget
This one habit helps me a lot with money management each month.
I believe creating monthly budgets are important to save money and keep a track of your spending.
I usually stick to my monthly budgets but sometimes I was unable to understand how I spent more than I expected. Therefore, I started creating weekly budgets.
If I spent more this week, I reduce my budget for the next week, so that my expenses don't exceed my monthly limit.
Related:
How to save money on groceries : 15 easy money saving ideas
6. Spend time with your family
Sit with your partner or children and spend quality time with them.
Ask them about their life. Show interest in their work and personal life.
I know you love them and are working hard to give them a beautiful life, but it is important to show them you care.
It is often said action speaks louder than words, but when it comes to family; I believe words hold equal power if not more.
Call your parents and your college friends who live in another city or maybe another country. It is good to catch up.
These days everyone is busy, and everyone is lonely. Call your old friends and talk to them, instead of texting them. Try it, it will feel nice.
7. Plan your outfit
Fold the laundry you did in the morning and keep your outfit ready for the next day to beat the Monday blues.
Check the weather and decide what you'll be wearing in the next five days.
Iron them, so you don't have to take out time from your busy schedule during the weekdays.
8. Unwind
After doing so much work and preparing yourself for the next week, it is time to pamper yourself.
Take a bubble bath, drink wine and dance to your favourite music.
Watch a light-hearted comedy show, give yourself a manicure and apply a sheet mask on my face. You deserve it girl!
End your Sundays on a soothing and a relaxing note.
Related:
70+ Self care ideas that will improve your life
9. Sleep early
There is no point in having a productive Sunday if you do not sleep early and not give your body enough time to relax.
The whole idea behind doing things on Sunday is to make the week and especially the Monday easier.
So, go to bed earlier than your usual sleeping time and wake up fresh. Be ready to take on the world.
You may also like:
How to stop being lazy and become insanely productive
How to be more productive : 13 amazing tips
10 ways to do a social media detox