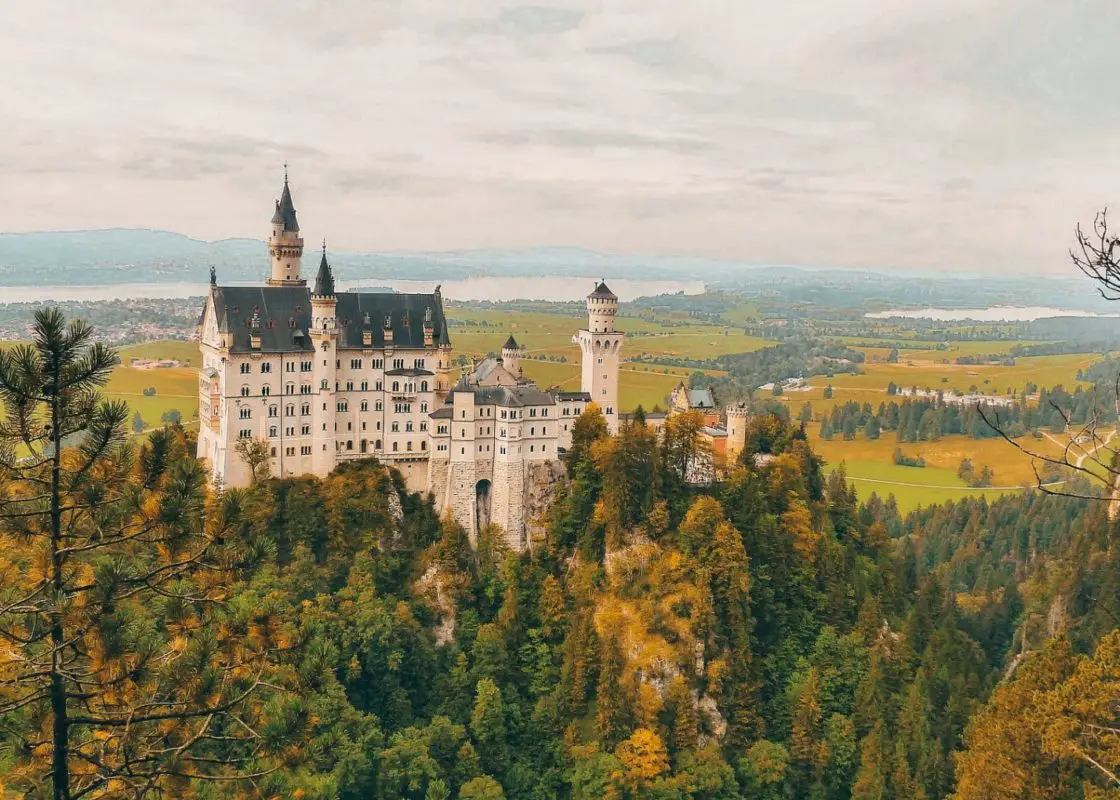 When it is about castles in Europe, no one can outdo Germany. It is home to some of the most impressive castles in the world, and of all the castles, Neuschwanstein comes out as a clear winner. Peacefully tucked in at the top of a mountain, amid a verdant alpine backdrop, you can find Neuschwanstein Castle. No wonder Walt Disney was so awestruck by its beauty, that it inspired him to build the famous Sleeping Beauty Castle in Disneyland. Neuschwanstein Castle seems to have come straight out of a dream and thus, the nickname "Fairytale Castle" is not a misnomer.
Disclosure: This post contains affiliate links. If you click one of them, I may receive a small commission at no extra cost to you.
THE ULTIMATE GUIDE TO VISITING NEUSCHWANSTEIN CASTLE
Neuschwanstein Castle was a dream project of Bavarian King Ludwig II. The construction of the castle began in 1869 and continued for the next two decades. Ludwig II never got to see the castle in its full glory due to his sudden and mysterious death in 1886.
Only after six to seven weeks of his death, the Castle was opened for the General Public. Today it is one of the most visited castles in Europe. Every year approximately 1.5 million people visit the Castle.
Save this on Pinterest to read it later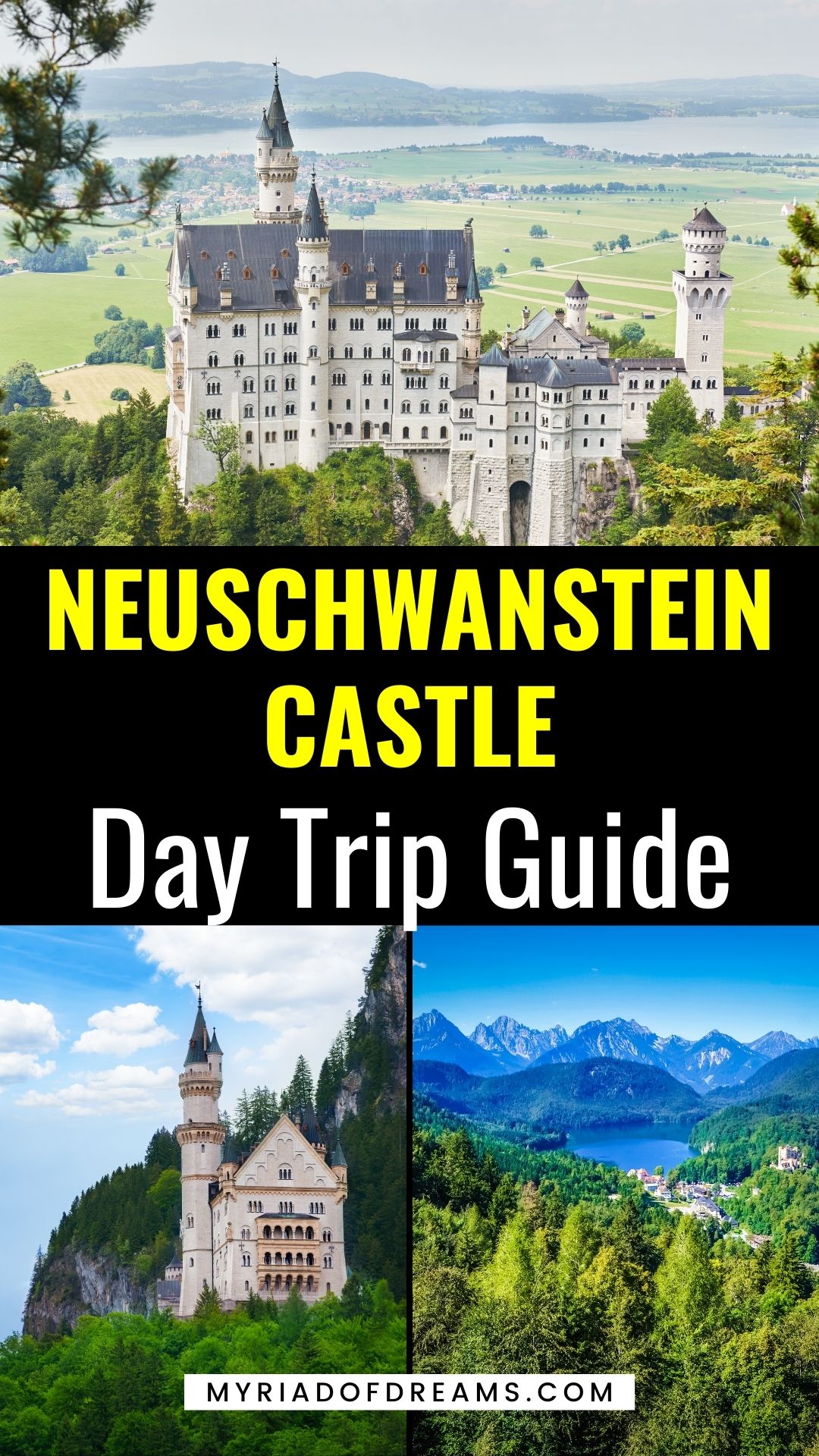 WHERE IS NEUSCHWANSTEIN CASTLE AND HOW FAR IS IT FROM MUNICH?
Neuschwanstein Castle lies in a small village of Hohenschwangau in the Allgäu region of Bavaria, Germany.
The distance to Neuschwanstein Castle from Munich is around 110 Km. By car, it takes approximately 2 hours to reach the village of Hohenschwangau, and then an ascend of 10 to 40 minutes (depending on your means of transport) to the castle.
By public transport, it takes approximately 2.5 hours to reach the village of Hohenschwangau, and then an ascend of 10 to 40 minutes to the castle.
HOW TO GET TO NEUSCHWANSTEIN CASTLE FROM MUNICH?
This is the most sought after question while planning a day trip to Neuschwanstein Castle. The answer to this prime question is that, there are three options to choose from.
Book a tour
Use public transport
Travel by Car
Let's talk about each one of them in detail.
BOOK A TOUR
This is the most comfortable and convenient approach to do a day trip from Munich to Neuschwanstein Castle. There is no need to worry about the directions, changing trains or finding parking. Experience a hassle-free tour and leave all the planning concerns behind. Booking a tour is a perfect way to immerse in the natural beauty of the Alps surrounding an architectural masterpiece.
Here are some of the best tours to Neuschwanstein Castle that you can book.
Arrive at Hohenschwangau, by train or a bus. Apart from visiting the Castle, you will also have enough time to visit the nearby areas including the Hohenschwangau Castle, Mary Bridge and Alpsee (Alp Lake). The lake freezes in winter but during summers you can take a boat ride or swim in it. This tour is the perfect way to make the most of your day. Please note that the ticket to the guided tour of the Castle (interior) is not included in the tour as it is an optional activity. Book your tour here.
If you are a group of 4 or more, then this tour is perfect for you. You can visit the Neuschwanstein Castle and also enjoy a trip to the scenic Bavarian Villages. You will also visit the UNESCO World Heritage Church of Wieskirch. And last but not least, this tour also gives you an opportunity to pamper your taste buds. Savour the flavourful Bavarian cheese and freshly baked bread at a Bavarian Farm. Book your tour here.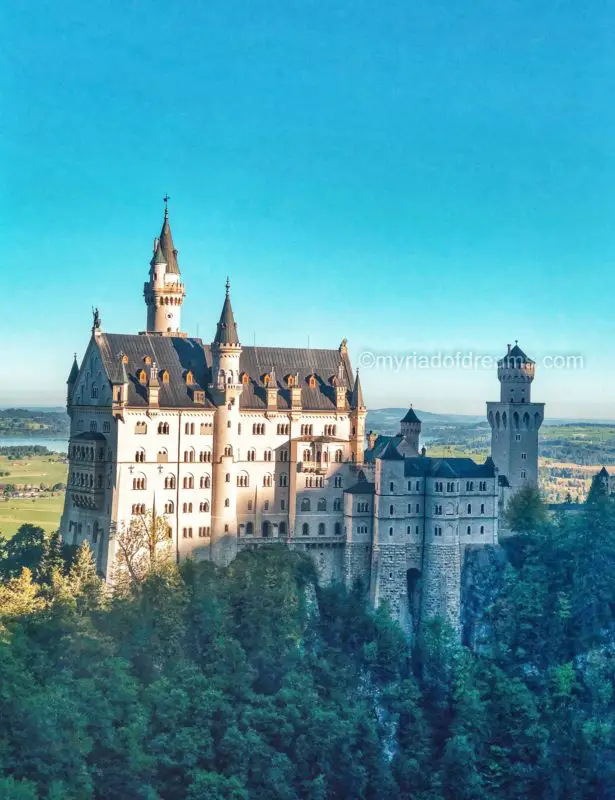 Both the Castles were built by Bavarian King Ludwig II. Unlike Neuschwanstein Castle, Ludwig II lived in Linderhof Castle. If you want to visit both the Castles, then I recommend you book the tour, as reaching Linderhof using public transport is not easy. With this tour, you also get an opportunity to visit Oberammergau, a charming town to click postcard-perfect shots. Book your tour here.
This Premium tours allow you to visit both the Castles with more ease and comfort. Unlike regular tours, the entrance tickets will be provided to you. You will be served snacks and drinks on board, while you travel in the luxury coach. Book your tour here.
USE PUBLIC TRANSPORT
I understand using public transport sounds overtaxing, especially in a new country. But there is no reason to fret as I'll guide you step by step through the entire process.
STEP ONE: BUY A BAYERN TICKET
Many first time travellers are not aware of Bayern Ticket, and hence they end up making expensive train rides. A Bayern Ticket is a day pass which allows you to do unlimited journeys in a day in Bavaria (Bayern), in regional trains. So basically this ticket works as a return ticket (when the return is on the same day).
You can buy a Bayern Ticket for up to 5 people.
1 traveler – 26 €
2 travelers – 34 €
3 travelers – 42 €
4 travelers – 50 €
5 travelers – 58 €
You can buy your Bayern ticket from the official DB website, ticket vending machines at the station or the DB App.
Note: Bayern Ticket is valid from 9:00 A.M in Weekdays and 00:00 hour at Weekend. If you are planning to visit Neuschwanstein Castle at Weekend, I recommend you start your journey as early as possible to avoid the crowd.
STEP TWO: TAKE THE TRAIN FROM MUNICH TO FÜSSEN
A train leaves from Munich Central Station (Hauptbahnhof) to Füssen, almost every hour. Board any train according to your convenience and reach Füssen. The journey lasts approximately 2 hours. You can check the train time table on the official DB website or the DB App.
STEP THREE: TAKE A BUS FROM FÜSSEN TO HOHENSCHWANGAU
After getting down at Füssen, take the exit and catch bus 73 or bus 78. The bus ride is covered in the Bayern Ticket, and therefore there is no need to buy a separate bus ticket.
You can take either of the buses and get down at Hohenschwangau. The journey will last for about 10 minutes.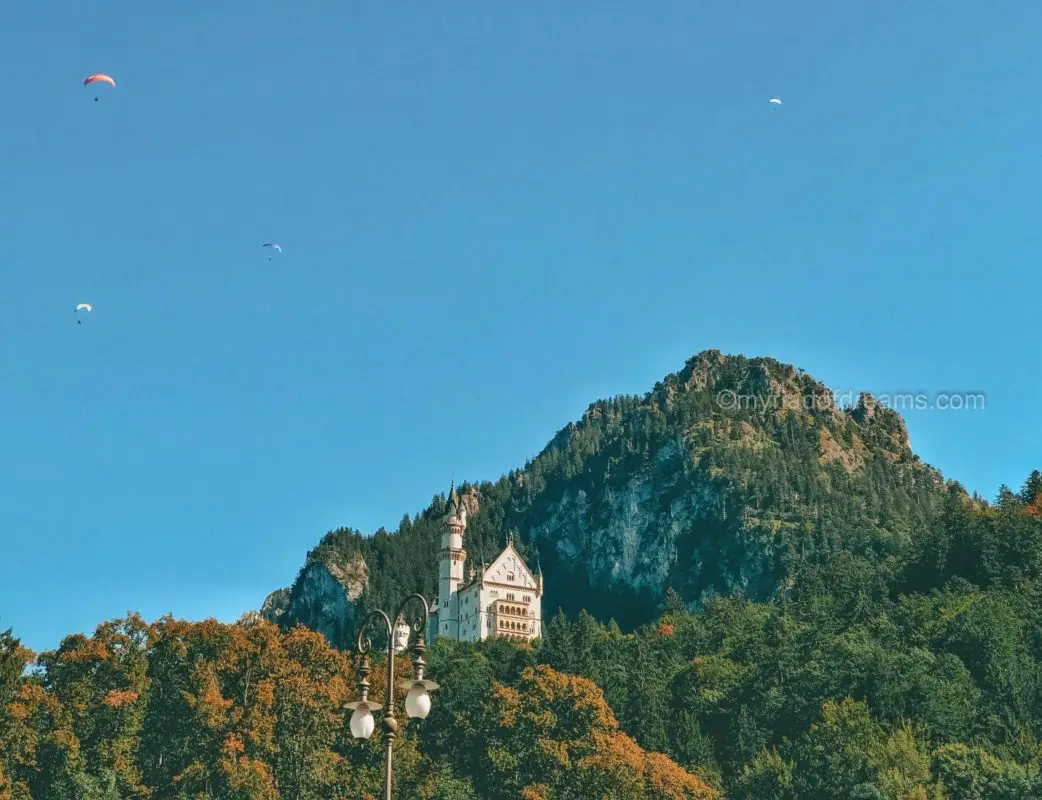 STEP FOUR: WALK TO THE TICKET CENTRE
After getting down at Hohenschwangau bus stand, take a walk to the ticket centre. Just keep walking straight, and you'll find a Ticket Centre on your right after a 5-minute walk. There are high chances that you'll find a long queue, therefore wait in the queue and get your tickets. At the ticket centre, you can buy tickets for Neuschwanstein Castle, Hohenschwangau Castle and The Museum of Bavarian Kings. The tickets can be bought separately or in combination.
STEP FIVE: WALK OR TAKE A RIDE TO THE CASTLE
Neuschwanstein Castle is located at the top of the mountain and to reach there from the ticket centre, you have got three options. Reach there by foot, take a shuttle bus or ride a horse carriage.
It takes around 30 minutes to reach the castle on foot. The horse carriage costs 7 € for an uphill ride and 3.50 € for a downhill ride. The bus ride costs 2.50 € uphill, 1.50 € downhill and 3 € for a return trip. Please note that neither the horse carriage nor the bus will drop you at the Castle entrance because of space limitations. A little walk would still be required.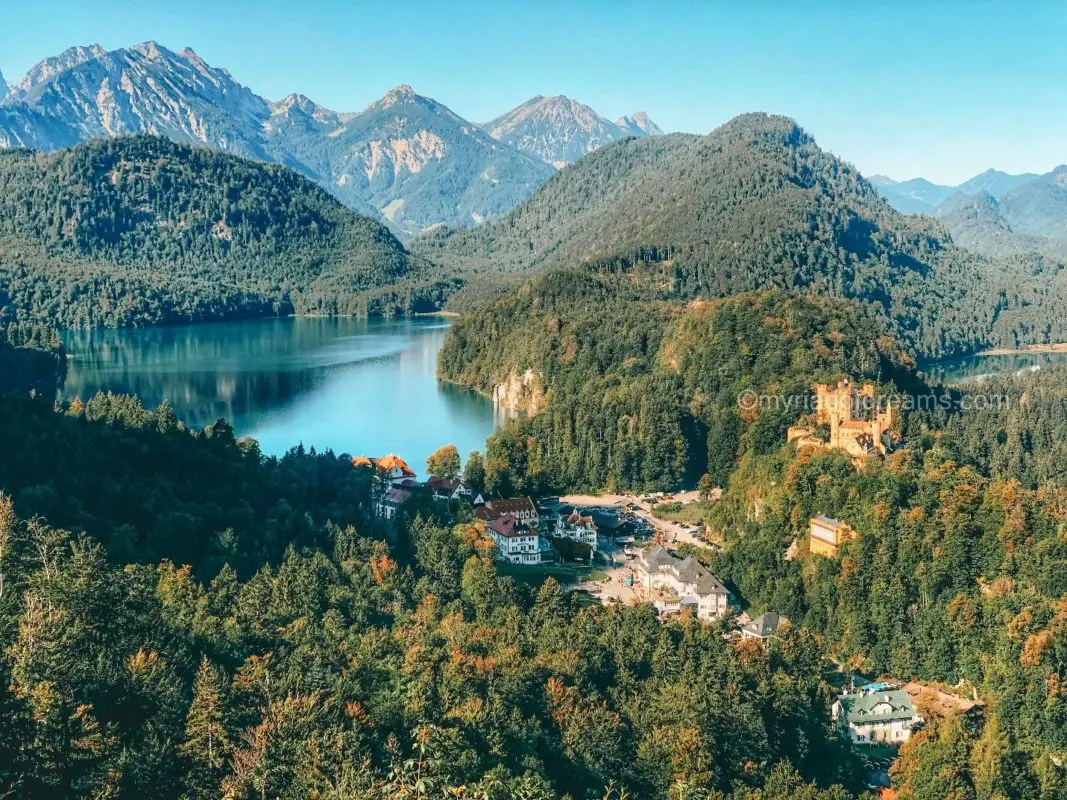 TRAVEL BY CAR
By car, you can easily reach the village of Hohenschwangau, but you cannot drive up to the Castle. There are four parking spaces in Hohenschwangau. Three parking spots charge 7€ a day whereas the parking spot (P4) under the Hohenschwangau Castle charge 7€ for 6 hours.
From Hohenschwangau, you can reach Neuschwanstein castle either on foot, by taking a bus or a horse carriage ride.
VISITING THE INSIDE OF THE NEUSCHWANSTEIN CASTLE
The castle can only be visited, on a guided tour from the inside. Make sure to reach the courtyard of the castle before your tour begins. Each ticket is specific for a particular time. You cannot visit the castle if you miss your guided tour time slot. The tour lasts for roughly 30 minutes.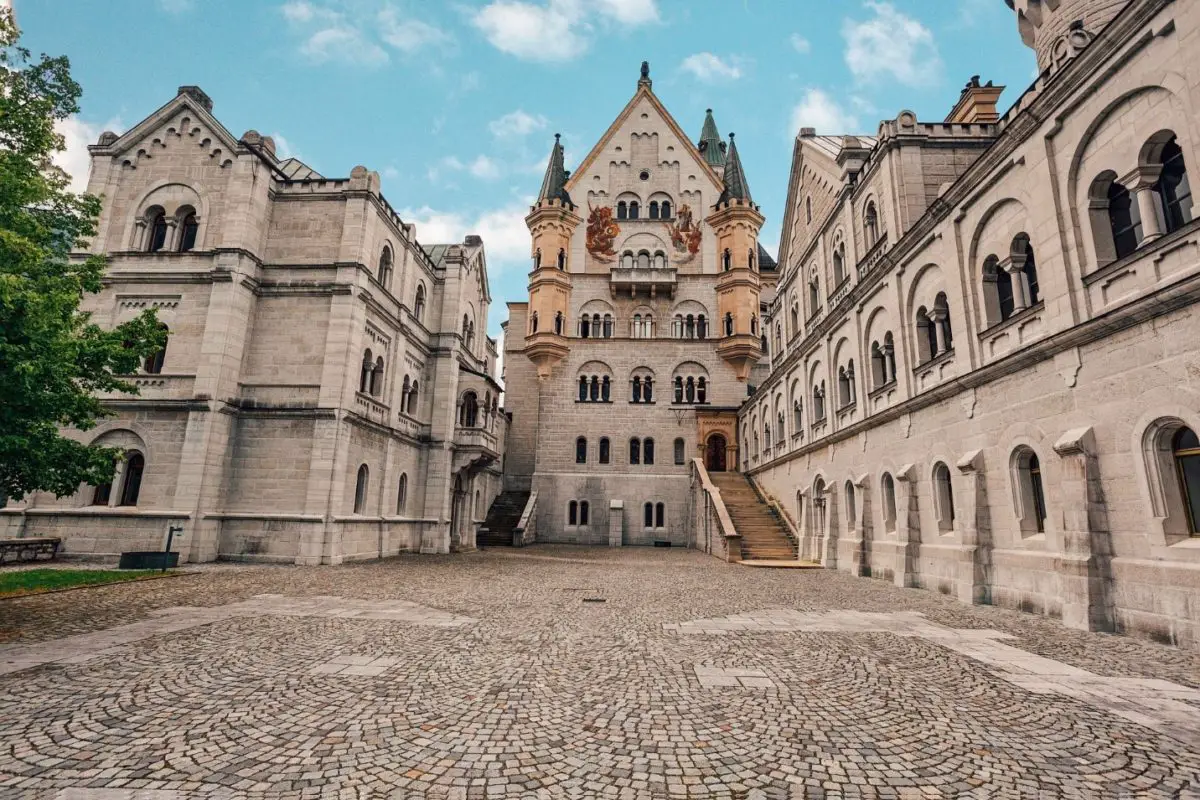 BEST PLACE TO PHOTOGRAPH NEUSCHWANSTEIN CASTLE
We all have seen those postcard-perfect pictures of Neuschwanstein castle. But how do you possess one? Well! If you go uphill, expecting to see the beautiful Neuschwanstein Castle (the way it looks in pictures), you'll be disappointed.
But don't get disheartened. All you need to do is a little more walk and reach the Mary Bridge (Marien Brücke).
Marien Brücke is a bridge right behind the castle, across the Pöllat Gorge. Most of the pictures that you see on social media are clicked from there.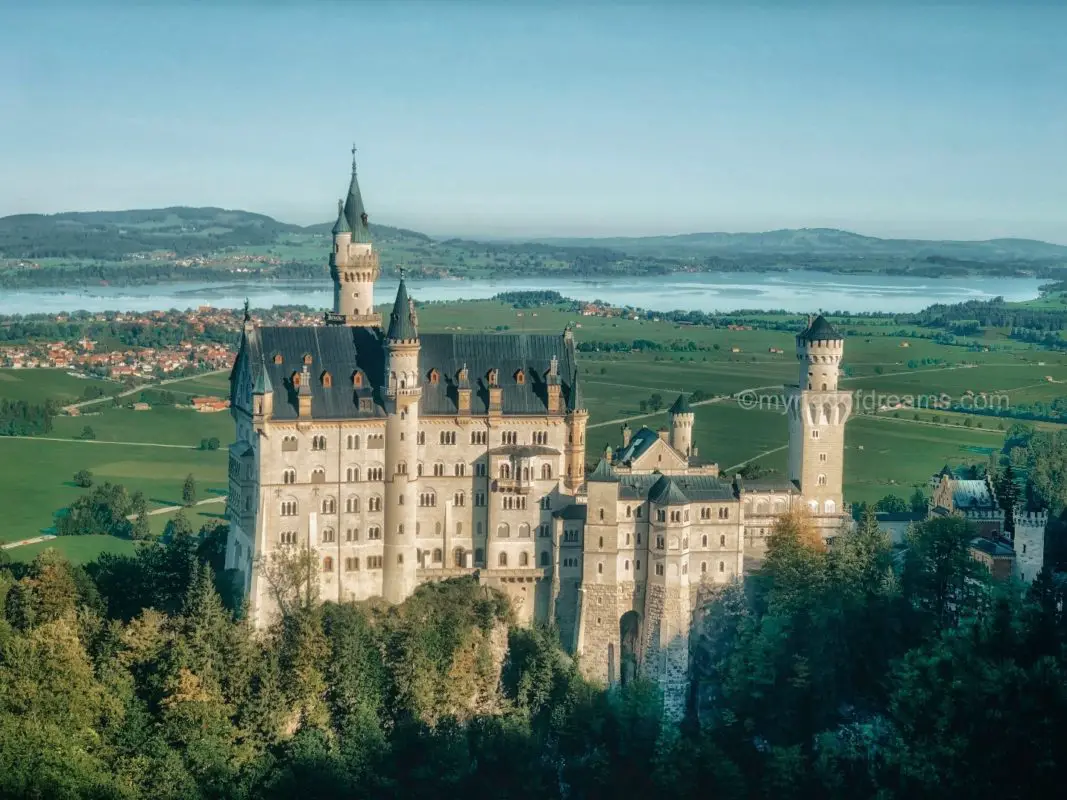 If you take a shuttle bus to reach Neuschwanstein, it will drop you very close to the bridge. The bridge hangs between two mountains, and if you have fear of heights, you might want to miss it.
Apart from Mary Bridge, there is another viewing point for the Castle. Cross the bridge and follow the trail until you reach a viewing platform. The trail is well marked, so there won't be much problem to reach there.
BEST THINGS TO DO AROUND NEUSCHWANSTEIN CASTLE
If you start your day early, you'll finish visiting the Castle by noon. So let's talk about what else you can do around Neuschwanstein Castle.
PÖLLAT GORGE
When you go from Marien Brücke towards the castle, there is a trail on the right-hand side, which goes to Pöllat Gorge. The gorge makes for an amazing hike.
The walk in the gorge is not very strenuous and can be easily done if you are wearing comfortable shoes. You can click some of the best pictures of Marien Brücke and Pöllat waterfall from the Gorge.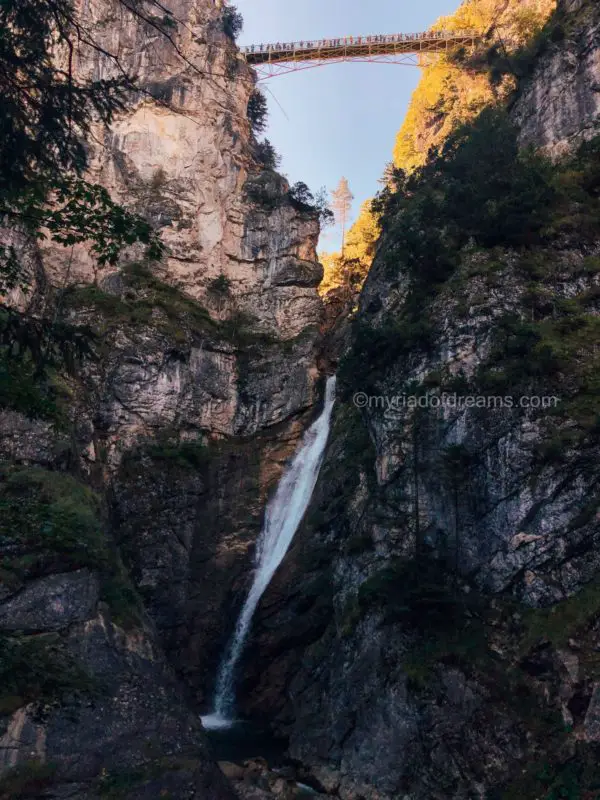 HOHENSCHWANGAU CASTLE
Hohenschwangau Castle is another beautiful castle in the village of Hohenschwangau. You can easily see it from the ticket centre.
It was the childhood home of King Ludwig II. It is not as magnificent as the Neuschwanstein castle but is definitely worth a visit.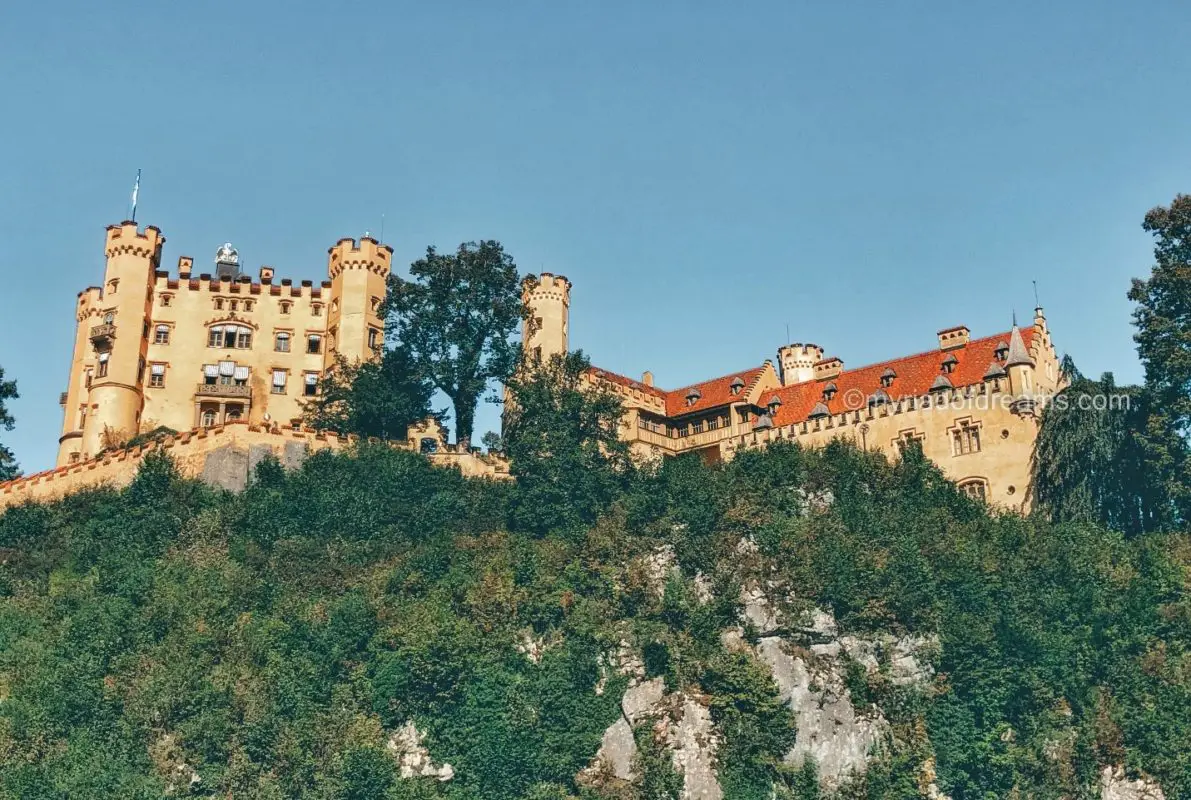 ALPSEE
Alpsee is a picturesque lake below the Hohenschwangau Castle. On a bright sunny day, a stroll around the lake is simply breathtaking.
If you are too tired to walk after a long day, sit on a bench or find some quiet place and appreciate the bounteous nature surrounding you. The crystal clear water, magnificent mountains and plenty of swans in the lake are nothing less than a visual treat.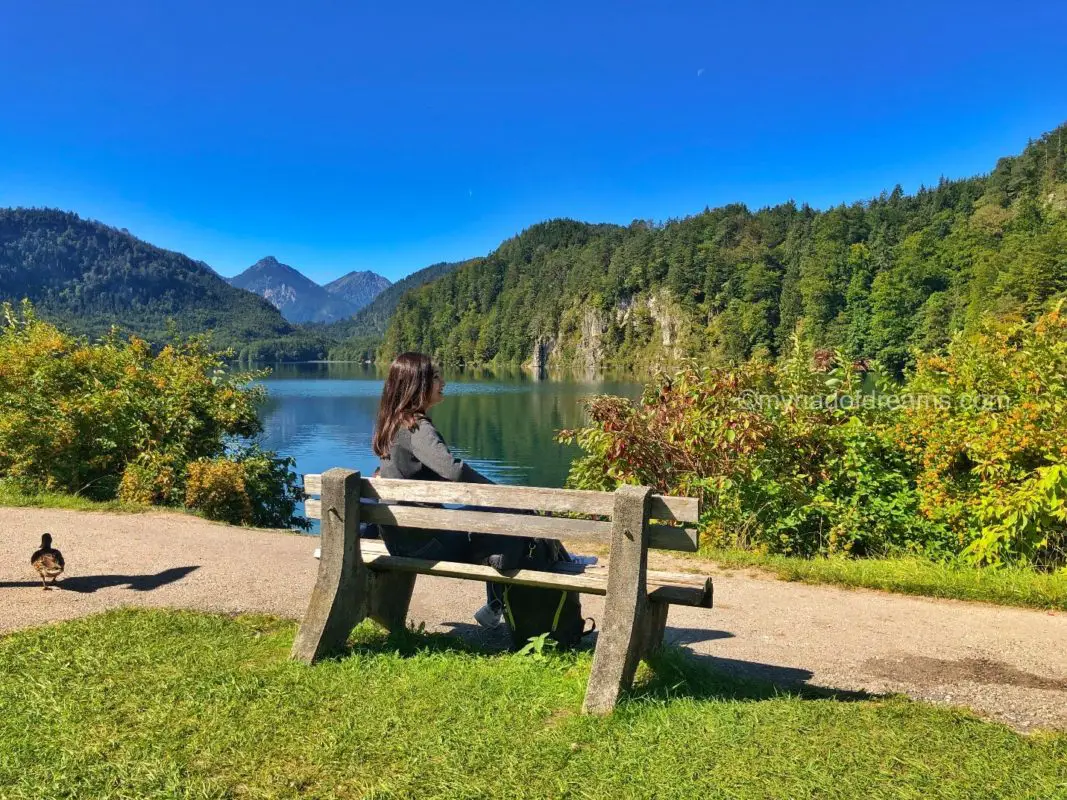 THINGS TO KNOW BEFORE YOU VISIT NEUSCHWANSTEIN CASTLE.
Keep the following things in mind before planning a trip to the Royal Neuschwanstein Castle
You can enter the Castle only through a guided tour.
Guided tour by personnel is only possible in German and English.
Audio guides are available for other languages like Spanish, Korean, French and many more.
Each ticket is valid for a specific time only. You cannot enter the Castle if you miss your tour time.
Photography is not allowed inside the castle.
Animals cannot be taken inside the castle
You are not permitted to fly drones around Neuschwanstein Castle.
Wear comfortable shoes, as the road to the castle, is very steep.
During peak season the tickets get sold out early in the day. Therefore I recommend, you reserve the tickets online.
BEST TIME TO VISIT NEUSCHWANSTEIN CASTLE
The Castle can be visited at any time of the year, as it remains open year-round. I have visited Neuschwanstein castle twice, once in winters and the other in summers. I recommend avoiding visiting it in winter. Winters doesn't affect the guided tours of the Castle, but it affects many other things. For example:
Marien Brücke remains closed in winters. You might come across beautiful snowy pictures of Neuschwanstein castle, which may inspire you to visit it in winters. But do not let those pictures fool you. You are not allowed to go to Marien Brücke when it snows. People break rules and risk their lives to get one perfect shot, which I do not recommend.
The shuttle bus service to Neuschwanstein Castle does not run when there is snow on the road.
The Alpsee freezes in winters and therefore you cannot swim or take a boat ride.
Entry to the Pöllat gorge is also not allowed when there is snow.
Recommended Travel Guides to feed your Wanderlust
If you enjoyed reading the above post, you might also enjoy the following.
Vienna : 3 Day Vienna Itinerary: What to do in Vienna, Austria in 3 days
Vienna : Top Ten Things to do in Vienna, Austria
Salzburg : 2 Day Salzburg Itinerary: Best of Salzburg in 2 Days
Istanbul : Must Visit Places in Istanbul, Turkey-3 day itinerary
Cappadocia : 10 Things to do in Cappadocia, Turkey
PIN FOR LATER