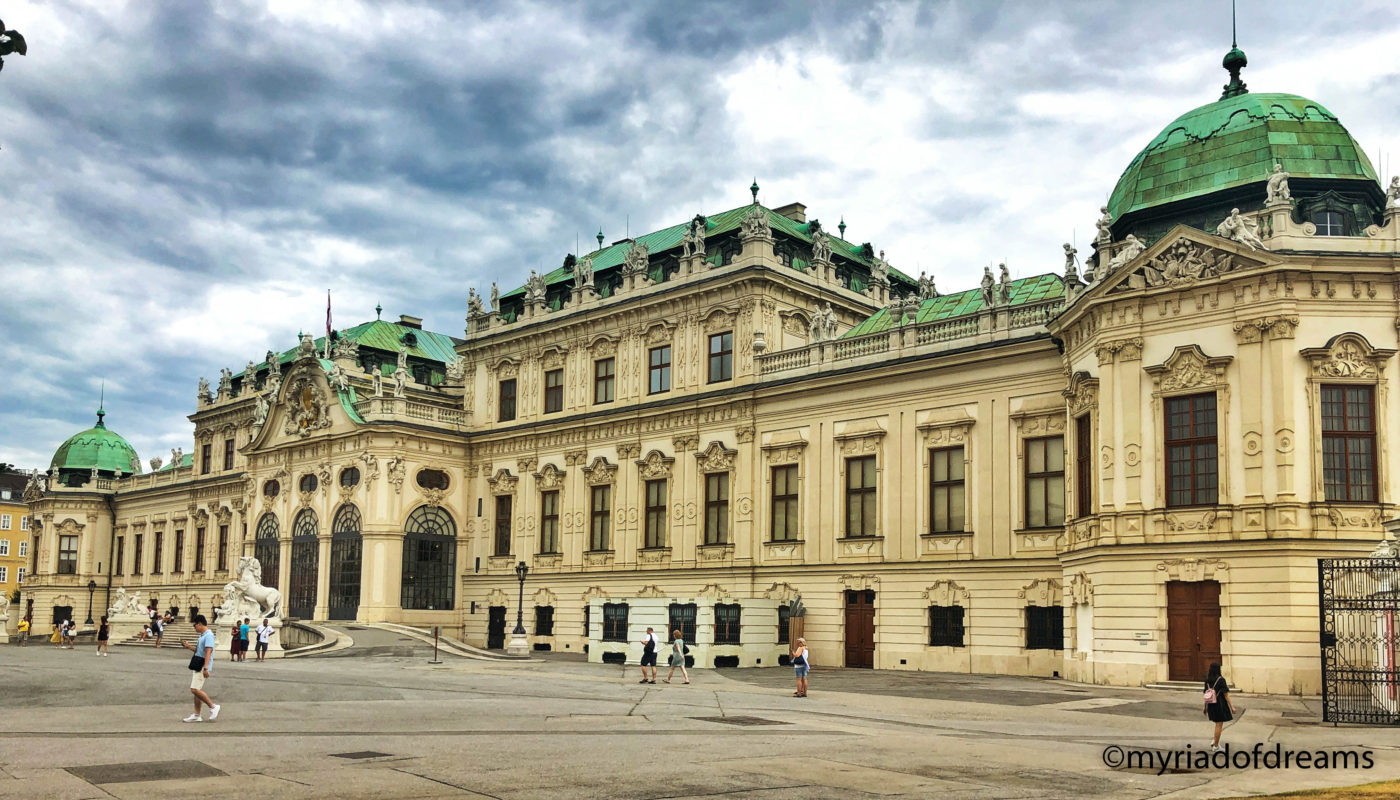 Vienna was always on my bucket list and, whenever I thought about it, few things would come to my mind like music, cafes and palaces but  Vienna is much more than that. The capital city of Austria is home to vibrant culture, great cafes, rich history and a unique Viennese vibe. The people are remarkably well dressed, everyone rides a bike, and the city is squeaky clean. If you are in the city only for a few hours or a day, it is nearly unimaginable to roam the entire city, given the vast number of attractions. So I created a list of top ten things to do in Vienna which you can't miss during your visit to the city.
Save this on Pinterest to read it later
Vienna Top Ten
St. Stephen's Cathedral
St. Stephen's Cathedral, locally known as Stephansdom is one of Vienna's most visited and iconic landmark.
The admission to the cathedral is free, but guided tours are paid. A separate ticket is required to visit the North Tower, South Tower and the Catacombs. I visited the south tower. It is 136.4 meters high and a climb of 343 steps is needed to reach the top. But the climb is worth the impressive view of Vienna.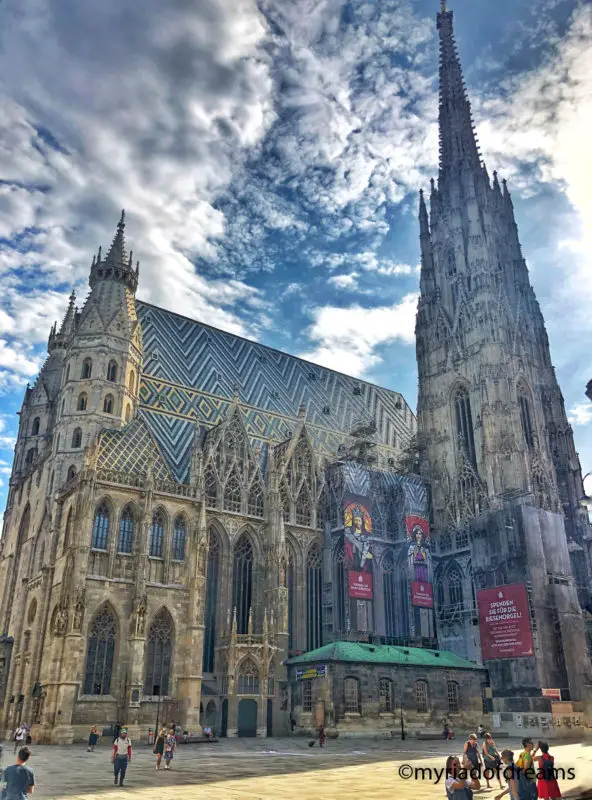 Schönbrunn Palace
Schönbrunn is the most famous palace in Vienna. It a UNESCO World Heritage Site which attracts millions of tourists round the year.
There are different types of guided tours to the palace, depending upon your interest. You can learn about the tours and tickets here.
As the entry to the Palace compound is free, therefore you can visit the park without a ticket but you have to buy tickets if you wish to visit the Orangery or the Privy gardens.
Visit the palace during its early hours to avoid the crowd.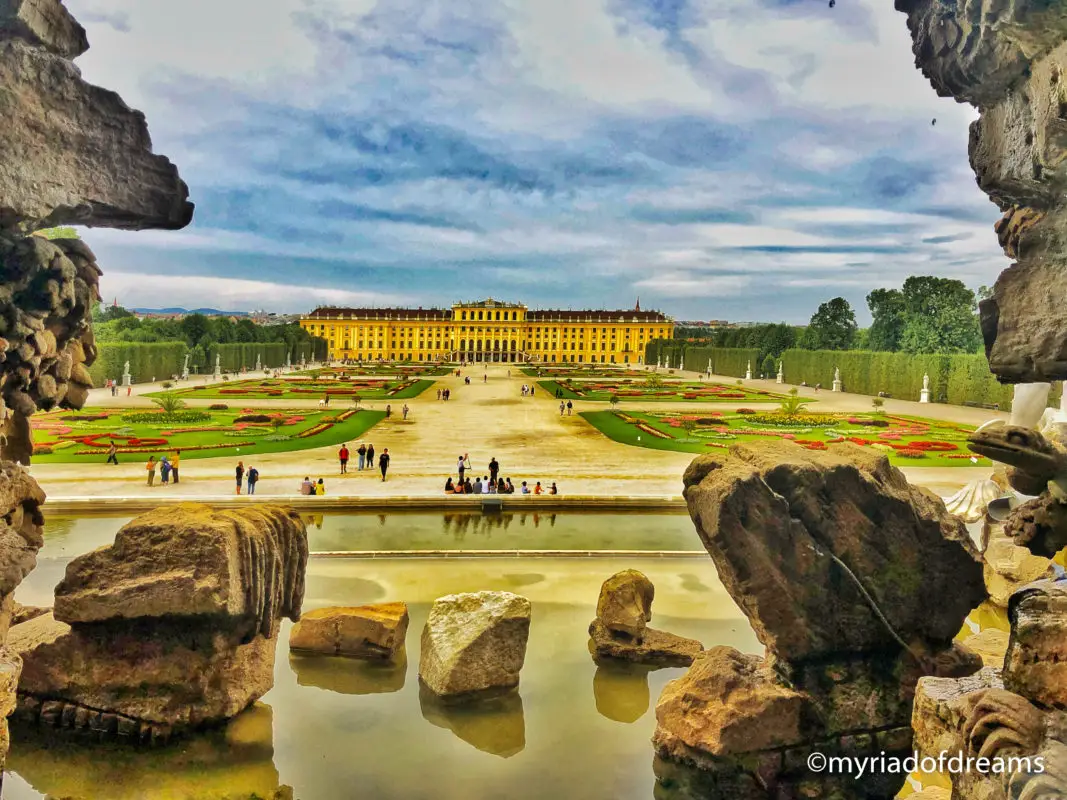 Ice Cream at Eis Griesler
Eis Grieslar is Ice cream lovers paradise. They serve a variety of flavours, from classics like Vanilla and Chocolate to unique flavours like Pumpkin seed oil and Goat cheese.
There are three Ice Griesler's stores in Vienna, and I highly recommend eating their ice cream if you want to show some love to your taste buds. They also have few vegan and gluten-free options.
As some of the flavours are so unique, I was a bit hesitant to try, but the lady at the counter allowed me to taste the ice creams before making an order. As the flavours were so rich, I ended up eating four different ice creams but the Pumpkin seed oil is definitely my favourite.
Belvedere
The Belvedere in Vienna is a historic building complex consisting of Upper Belvedere palace, Lower Belvedere Palace and the gardens.
Both the Baroque style palaces were built in 18th century as a summer residence for Prince Eugene of Savoy. Now they serve as art gallery and museum.
You can buy a separate ticket to each palace or a combination ticket called Klimt ticket. The Klimt Ticket includes the entry to both the palaces. You can buy your tickets to the palace here.
If due to lack of time or any other reason you can't visit both the palaces, then choose the Upper Belvedere as it hosts the world's largest collection of art by Gustav Klimt.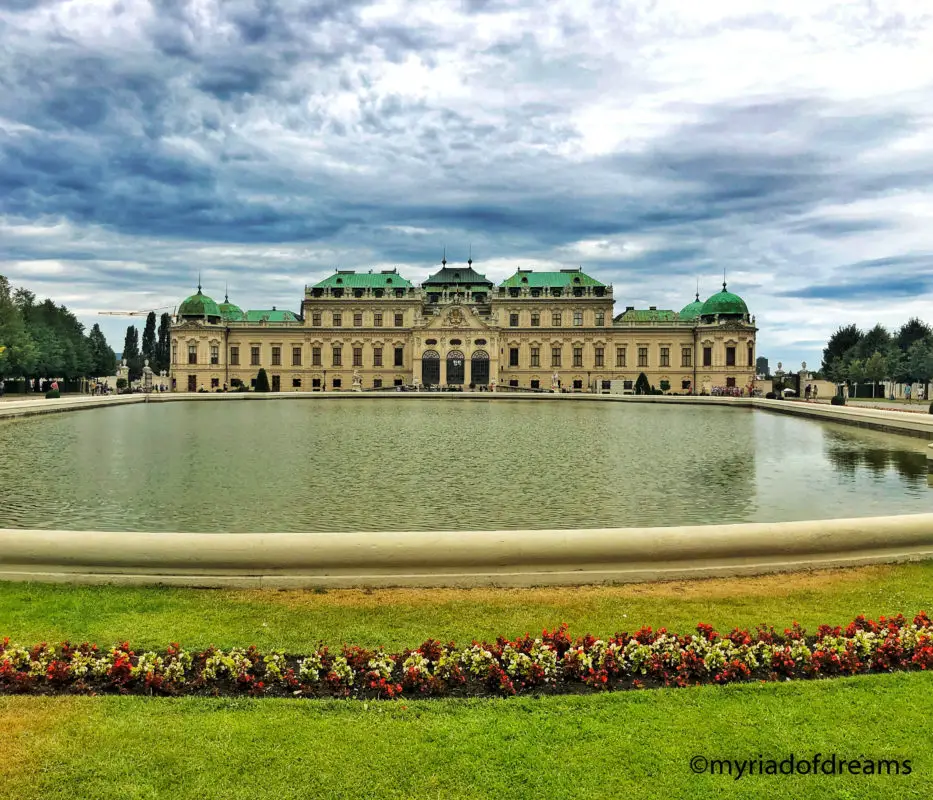 Hundertwasserhaus  

                                           
Hundertwasser house in Vienna attracts thousands of visitors from around the globe, due to its unique and colourful facade. The house was designed by artist Friedensreich Hundertwasser, who believed in free architecture without any standards and straight lines.
As it is an apartment, therefore can be visited only from the outside at any time of the day. The residents of the Hundertwasserhaus are allowed to decorate the façade of the building around their own windows. More than 200 trees and shrubs adorn the building.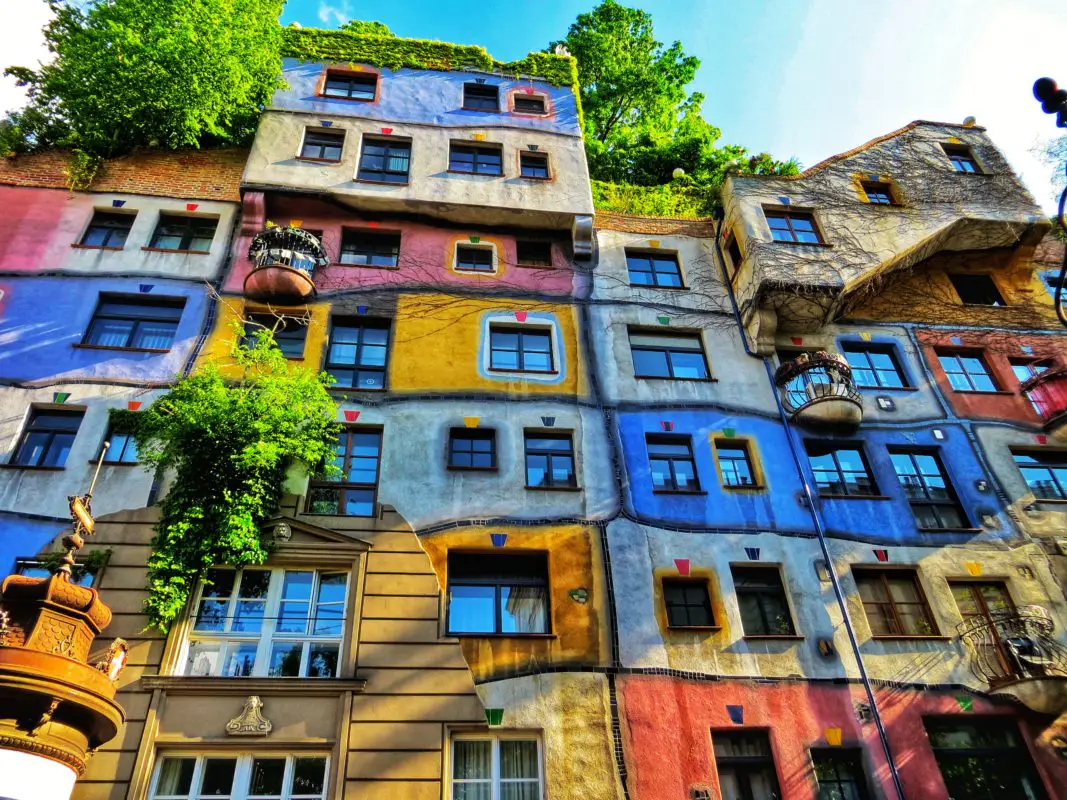 Eat Wiener Schnitzel

 
Wiener Schnitzel, a national dish of Austria, is one of the best specialities of Viennese cuisine and a must-try. Traditional Wiener Schnitzel is made of veal and not pork, so make sure to check the ingredients before you place your order.
Many restaurants serve both veal and pork Schnitzel. As pork Schnitzel is cheaper, many people prefer to eat that but, when in Vienna you should definitely eat Wiener Schnitzel. It is traditionally served with potato salad and garnished with a slice of lemon.
Although you can find Wiener Schnitzel in almost all the restaurants, I recommend Figlmüller Bäckerstrasse and Café Central for the most mouthwatering and authentic taste.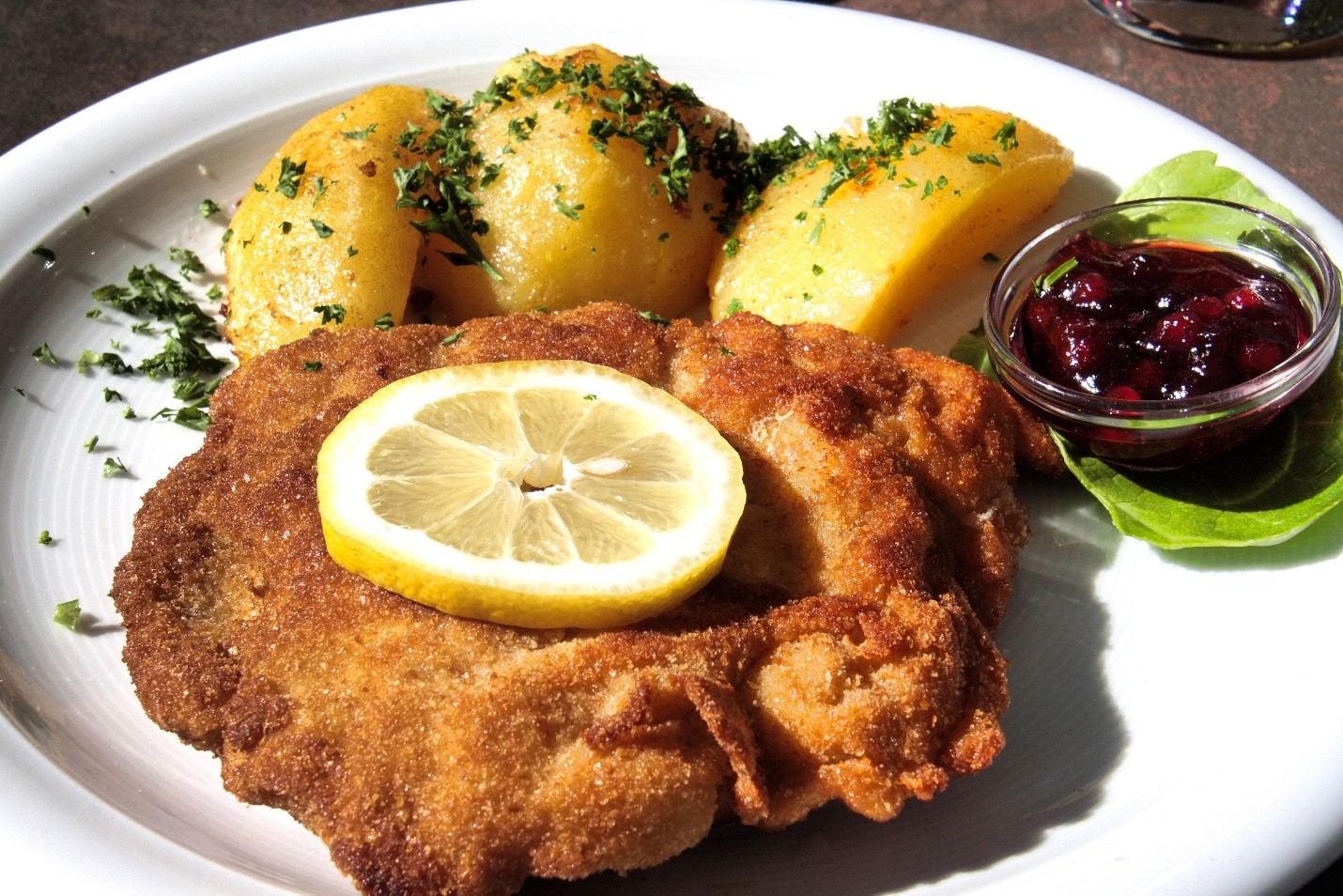 Hofburg
The Hofburg was the imperial palace of the Habsburgs, but today it serves as the office and residence of the President of Austria. The Hofburg complex consists of 18 wings, 19 courtyards, 2600 rooms and is spread over 240,000 m².
 I took the audio tour of the palace, which was quite interesting. It included a visit to the Sisi Museum, Imperial Apartments and the silver collections. You can also buy tickets to a guided tour of the Palace at a slightly higher price. Apart from these, Hofburg has other attractions too, like the Treasury, Imperial Library, Imperial chapel and Spanish Riding School.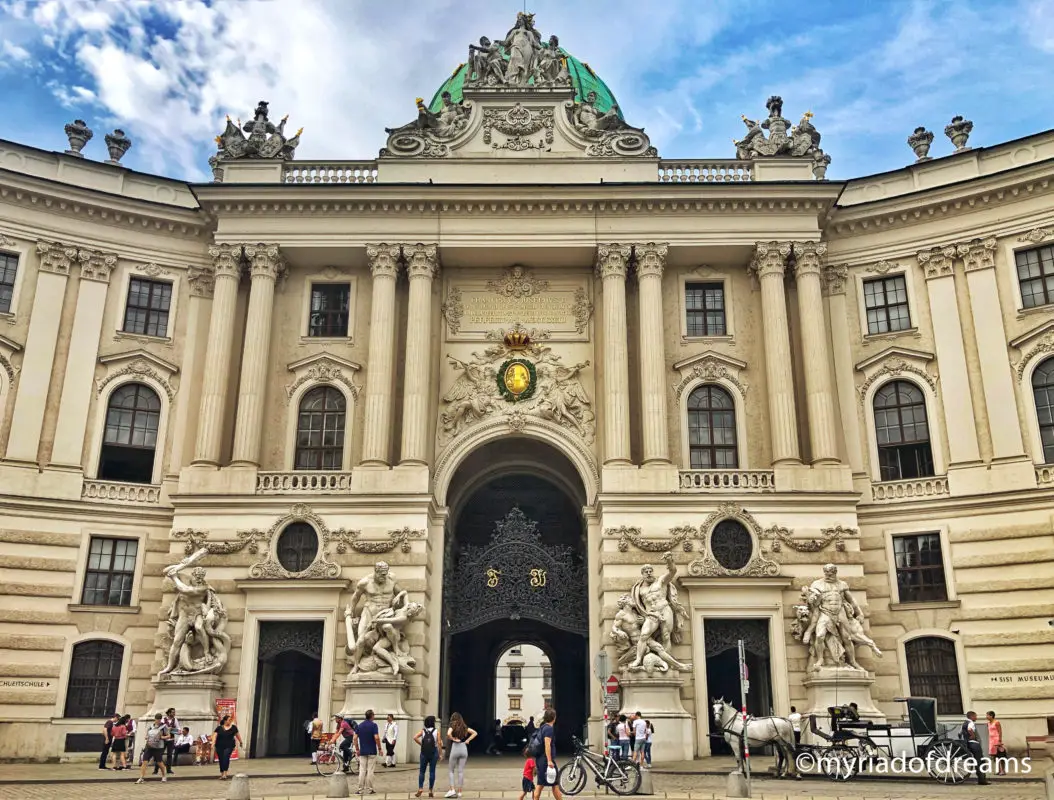 Have Apple Strudel
Apple Strudel is the most celebrated dessert of Austria. You will know what the hype is all about once you indulge your sweet tooth with the famous Viennese Apfelstrudel.
The oldest known recipe of Apple Strudel dates back to 1697, but it gained popularity under the Habsburg Empire. It is an oblong pastry made up of many thin layers with apple filling. It is served with whipped or vanilla cream. In my opinion, it tastes best with Vanilla cream.
You will find Apple Strudel in every coffeehouse and restaurant's menu but for the best Strudel visit Café Central, Café Eiles or Kaffee Alt Wien.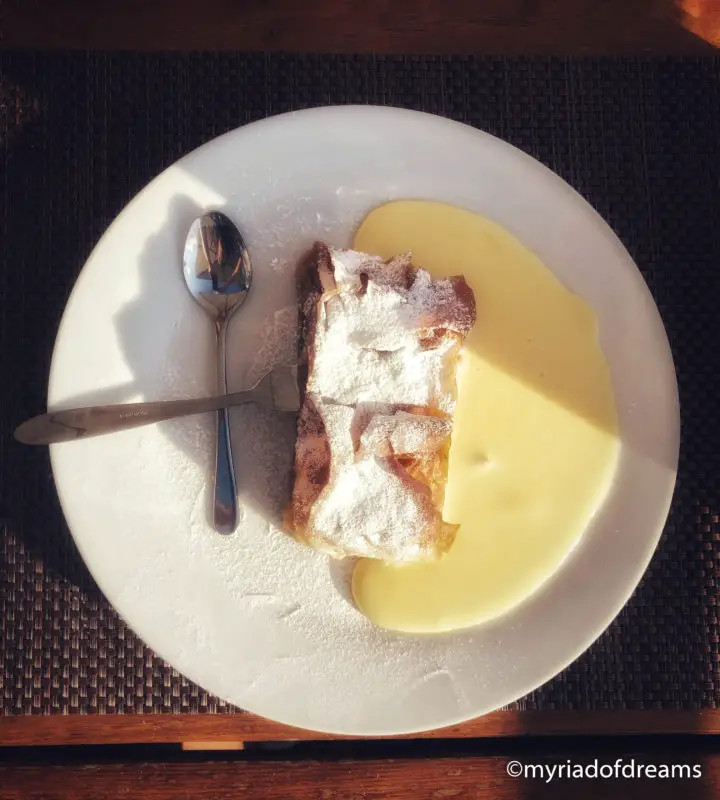 Prater
Prater is a large amusement park in Vienna which guarantees adventure and entertainment.
The admission to the park is free, and you have to pay only for the attractions. There are several attractions which cater to the needs of every age group. But the iconic Giant Ferris Wheel will for sure win your heart.
The Giant Ferris Wheel was built in 1897 to celebrate the golden jubilee of Emperor Franz Joseph I. Since then it has served as one of Vienna's landmark. In the year 1944, the war destroyed the Ferris Wheel but it was put into operation again after restoration in the year 1947.
Apart from a joyful ride and breathtaking views, it also offers you two luxury gondolas, which can be rented to make your moments extra special. You can learn more about it here.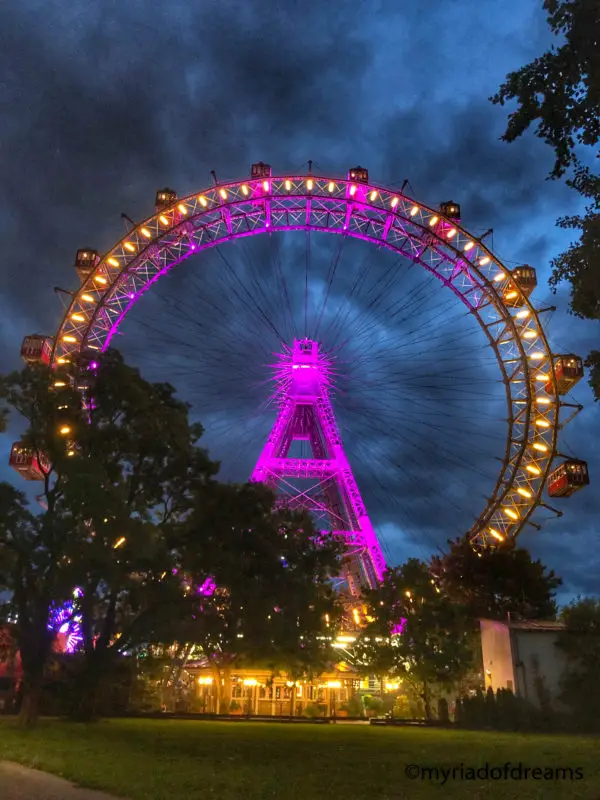 Vienna State Opera
 The Vienna Opera house inaugurated in 1869, with Mozart's Don Juan and since then it has grown into one of the most important and busiest Opera houses in the world.
Apart from enjoying world-class performances, you can also take a guided tour. The guided tour helps you to understand what happens behind the scene. It is also an amazing way to learn some facts about the Opera House.
The tour is offered in German, English and Spanish but if you want your tour to be in French or Italian, you can contact them here.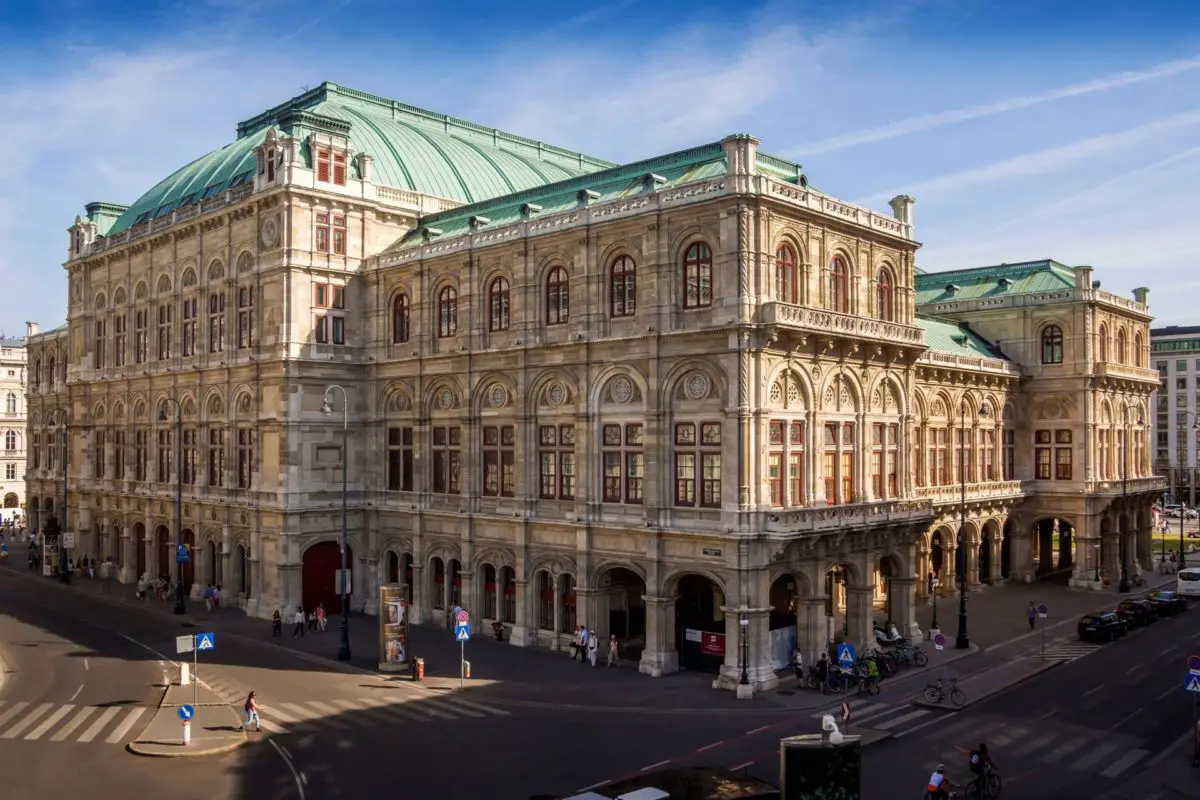 You Might Also Enjoy:
3 days Vienna itinerary : The best things to do in Vienna
2 Day Salzburg Itinerary : Best of Salzburg in 2 Days
Neuschwanstein Castle: Day trip from Munich
2 day Hamburg Itinerary – Best things to do in Hamburg, Germany.
Pin for later