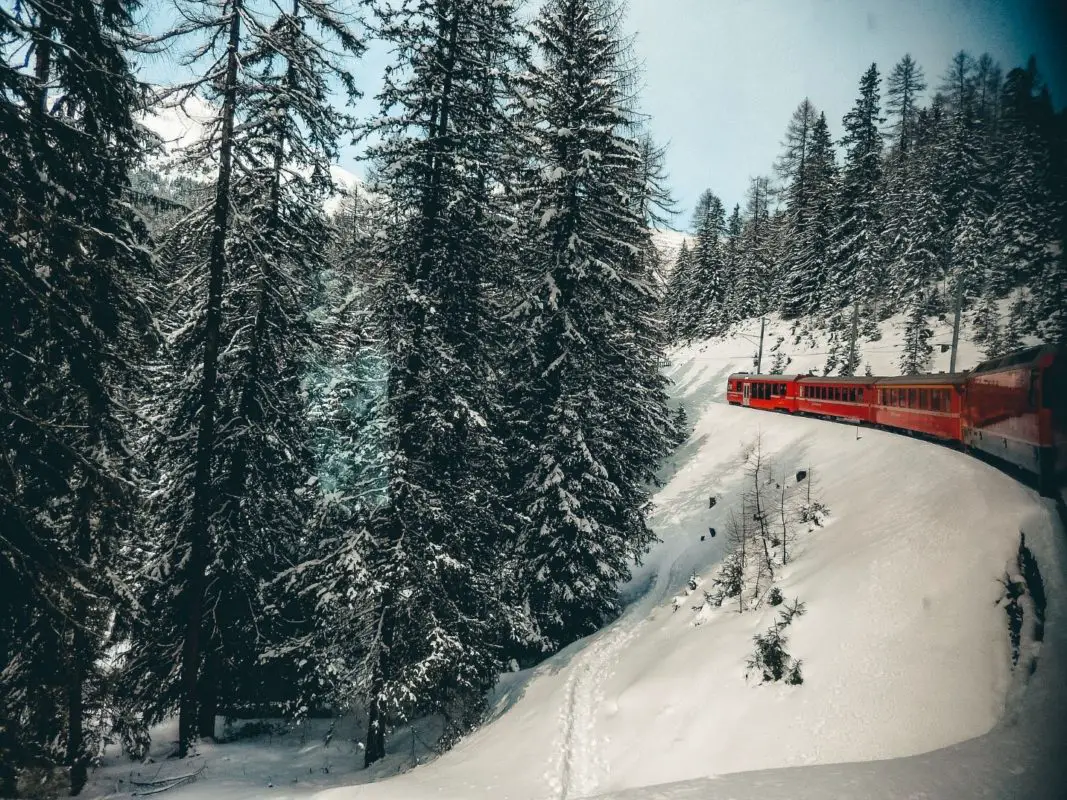 Zurich is the largest city in Switzerland. Apart from being an impressive city with lots of attractions and sights, it is also an excellent base for exploring the countryside. Making a day trip to small villages is a perfect way to marvel at the beauty of the hidden gems of Switzerland. Two such hidden gems are the beautiful alpine villages of Bravuogn and Filisur. I visited these villages on a recommendation by a local, and I am so glad I did. Bravuogn is known as a Mecca for sledgers and is very popular amongst the locals. Filisur, on the other hand, is home to the world-renowned Landwasser Viaduct. Here is the best day trip from Zurich in Winter.
THE ULTIMATE GUIDE TO A DAY TRIP FROM ZURICH TO BRAVUOGN AND FILISUR IN WINTER.
Save this on Pinterest to read it later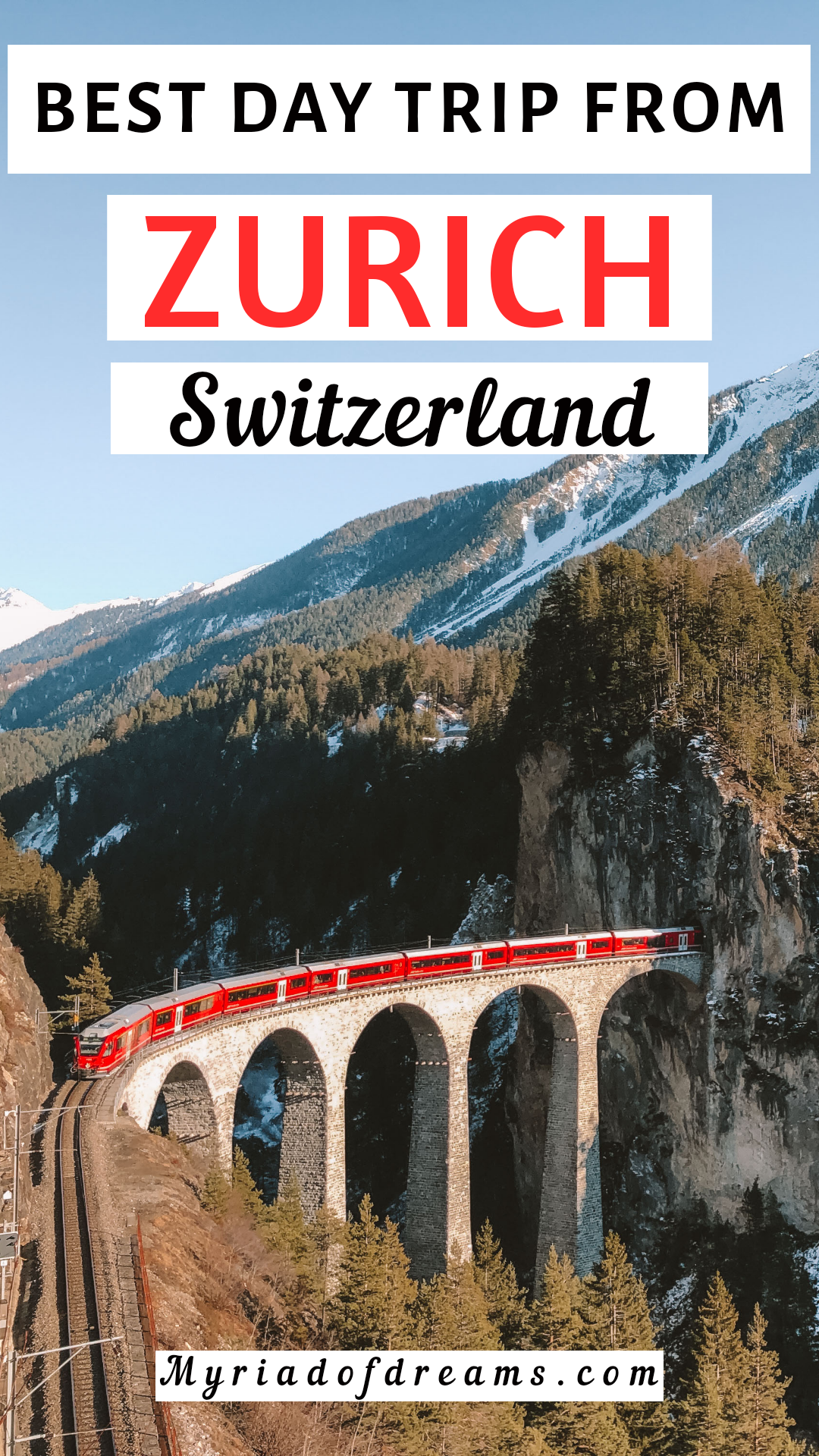 Disclosure: This post contains affiliate links. If you click one of them, I may receive a small commission at no extra cost to you.
HOW FAR THEY ARE FROM ZURICH?
Bravuogn and Filisur are two beautiful villages in the Swiss canton of Graubünden. The distance to Filisur from Zurich is around 165 km. And the distance from Filisur to Bravuogn is approximately 8 km.
By car, it demands almost 2 hours to reach Bravuogn whereas, by train, it takes around 2 hours and 45 minutes to reach Bravuogn.
HOW TO REACH THERE?
There are two ways to reach the beautiful villages of Bravuogn and Filisur. You can either take the train or drive there by car.
No matter what you choose as your mean of transport, you will reach Bravuogn via Filisur.
By Car
You can reach from Zurich to Filisur via the A3 and A13 motorway. The journey will last for less than 2 hours. A drive of 10 to 15 minutes is required to reach Bravuogn from Filisur.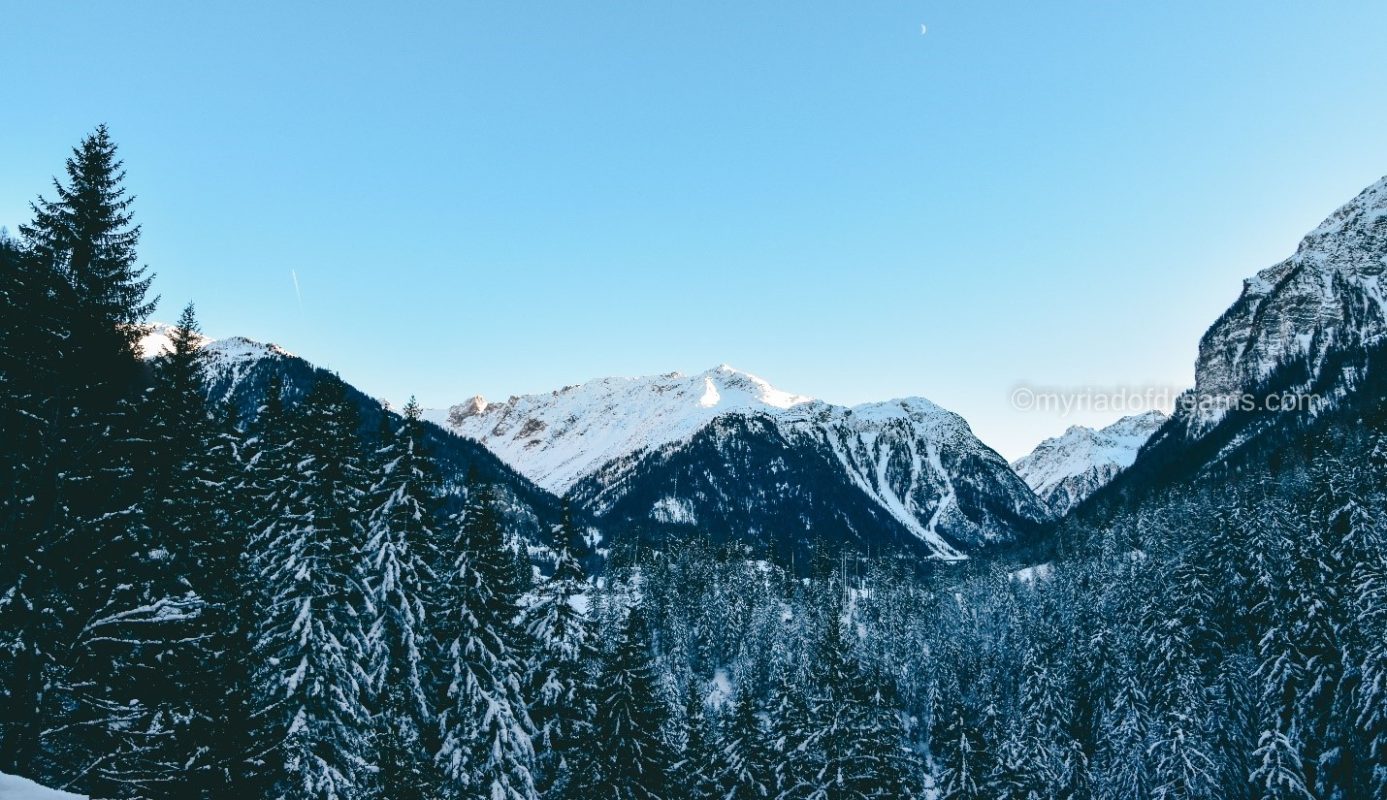 By Train
Take a train from Zurich Central Station to Filisur. Unfortunately, there are no direct trains available on this route, and therefore a change of trains is required. The change of trains could be anywhere from 1 to 3.
Before booking your tickets, check the time table of the trains running on your favoured route. Book the train with a minimum number of changes.
The journey from Zurich to Filisur (including one change) lasts for approximately 2 hours and 30 minutes.
The next station from Filisur in the direction of St. Moritz is Bravuogn. The journey lasts for 12 to 15 minutes.
SUGGESTED ITINERARY FOR A PERFECT DAY TRIP FROM ZURICH TO BRAVUOGN AND FILISUR.
1. TAKE 7:37 TRAIN FROM ZURICH TO FILISUR
This train will drop you at Filisur Bahnhof (train station) at 10:00 AM. You can catch a train earlier than this if you want. But try not to postpone it any further, otherwise, you'll be left with very little time on hand. After all, who would want to lose all the enchanting Swiss beauty to sleep?
2. HEAD UP TO LANDWASSER VIADUCT
Landwasser Viaduct, a part of Rhaetian Railway network is an astounding railway bridge in Filisur. It is 136 meters long and stands at a height of 65 meters. Since 2008, it shares a special place in the UNESCO World Heritage List.
It is not only the scenery that makes the bridge a feast to the eyes but also the architectural skills used for its construction. Can you believe it was made in the year 1901-1902 without scaffolding? The architectural masterpiece is enough to make anyone gasp in surprise.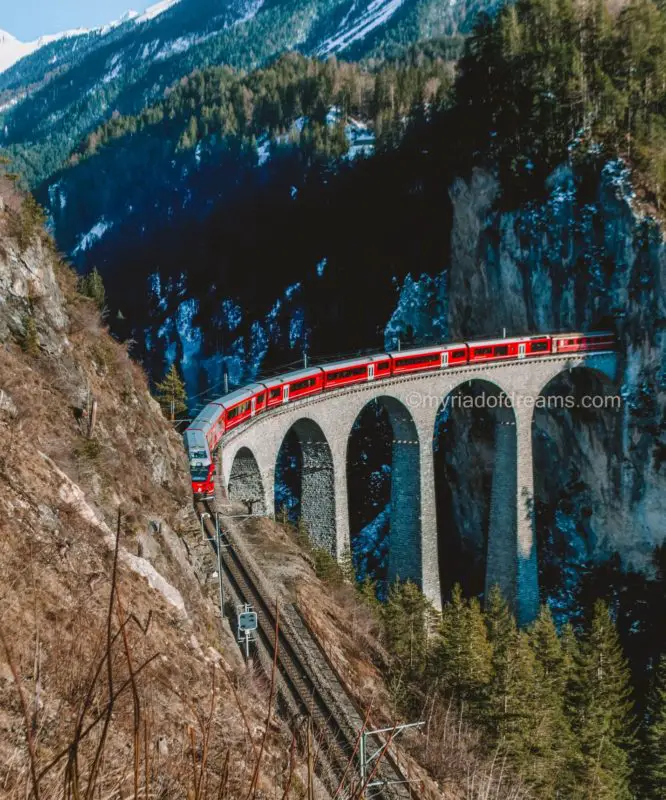 Note: There are two viewing platforms for Landwasser Viaduct: North and South. Although the Viaduct is visible from both the viewing points, the best views come from the North Landwasser Viaduct Viewing Platform (Landwasserviadukt aussichtsplattform Nord).
Landwasser Viaduct from Train Station
After getting down at Filisur Station, walk towards the North Landwasser Viaduct Viewing Platform. It will take about 30 to 35 minutes to reach the viewing platform. The walk is a bit long, but every footstep is worth the magnificent view. Walk in the direction of the sign that says "Landwasserviadukt aussichtsplattform Nord".
Landwasser Viaduct from Parking Spot
Park your car at Landwasser Viaduct parking spot (Parkplatz Landwasserviaduct). From there, walk to the viewing platform. The trail is well marked. Follow the signs, and you'll reach the North Viewing platform in about 20 minutes (though the sign at the parking spot says 35 minute).
3. SPEND SOME TIME AT THE VIEWING PLATFORM
After you have reached the platform, appreciate the beauty around you and wait for a train to pass. You can hear the train coming from a distance. In other words, the train gives you ample time to be photo-ready.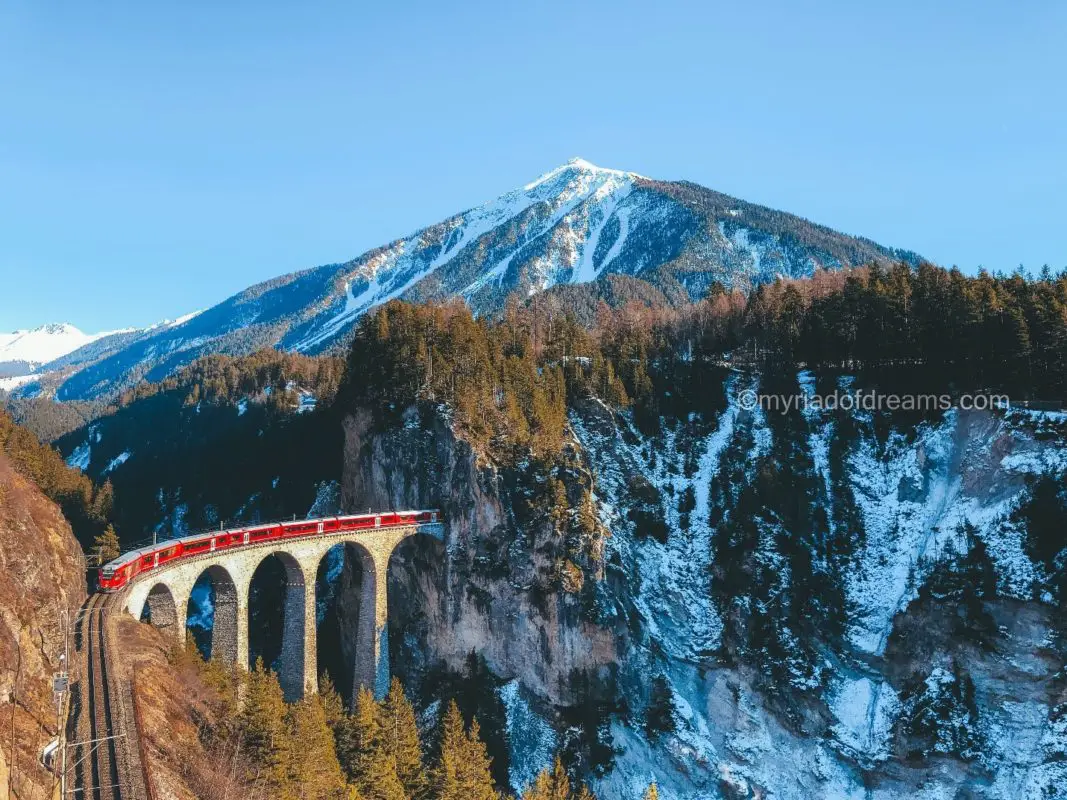 4. HEAD BACK TO THE TRAIN STATION OR THE PARKING SPOT
Follow the same route downhill and reach the train station or the parking spot, depending on your means of transportation. A drive of 15 to 20 minutes is required from Filisur to reach Bravuogn train station. The train leaves at every hour from Filisur to Bravuogn. Make sure to catch the 2:02 PM train from Filisur at the latest. The train journey lasts for 12 to 15 minutes.
5. ARRIVE AT BRAVUOGN AND HAVE LUNCH
Before going for your next adventure, fill your tummy with some delicious food. Visit the Albula Railway Museum Büfét Restaurant at the station and savour some regional delicacies. A must-try is the "Homemade Bündner Gerstensuppe". If you have time, you can also visit the famous "Albula Railway Museum" adjacent to the restaurant.
6. BUY YOUR SLEDGING/ RAILWAY TICKET
Buy the tickets from the ticket vending machine at the train station.
Tap on the United Kingdom flag to change the language to English.
Tap on Sledging tickets.
Choose from single run and day ticket. Choose Day ticket only if you want to sledge three or more than three times.
Enter the number of Adults and Children
Pay the money with cash or card.
Collect your ticket from the bottom tray.
Validate your ticket in a small box next to the ticket vending machine.
7. RENT YOUR SLEDGE
You can rent a sledge from a rental shop at the station. You can choose between double or single-seater. Next, you have to choose between a normal or sports model. If you are not sure which one to rent, go for a single-seater normal version. You can book your sledge online here  or rent them on the same day.
8. BOARD THE TRAIN TO PREDA
A train leaves from Bravuogn to Preda every 30 minutes. Board the train with your sledge and enjoy a picturesque 15 minute ride to Preda. Disembark at the station and follow the crowd. Congratulations… the sledging fun begins.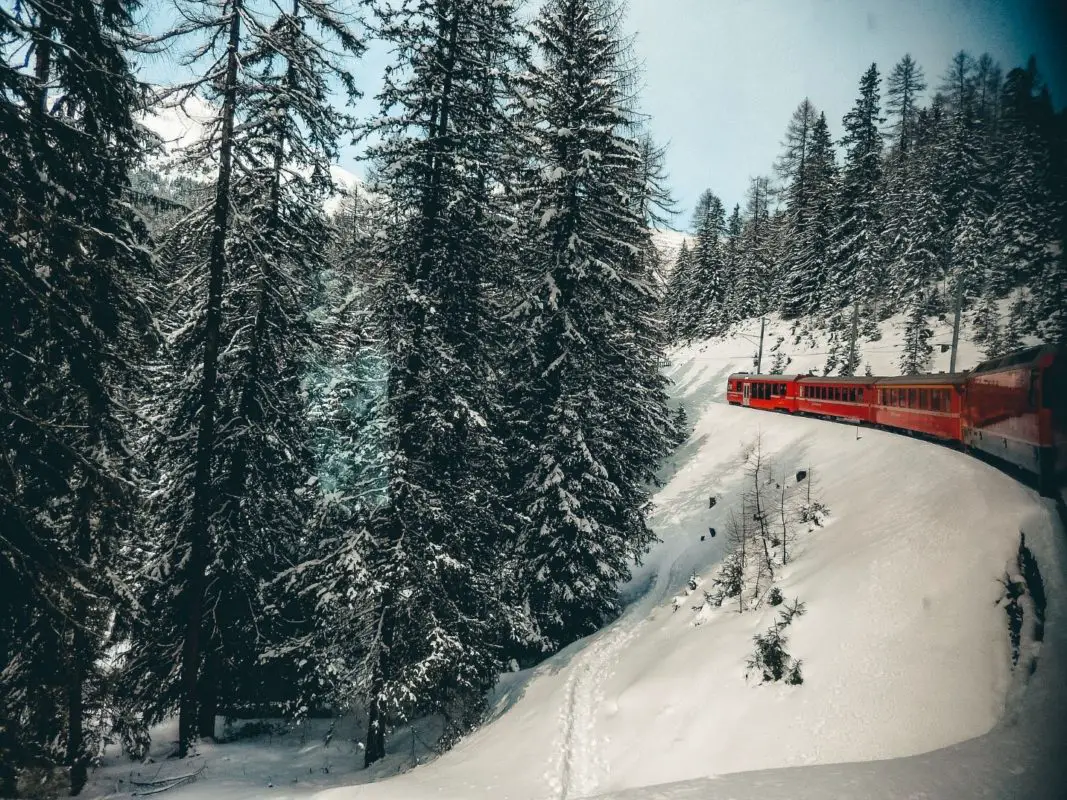 9. SLEDGE
Do not expect steep sledging run at the beginning. First few metres are very plain and smooth, thus, this gives you an opportunity of getting used to your sledge. This is very important for the first-timers.
After a few minutes of easy-peasy sledging, you'll be on a steep Sledge Run, where the actual fun begins. Wallow in the snowy fun for the next few minutes and reach Bravuogn Sledging.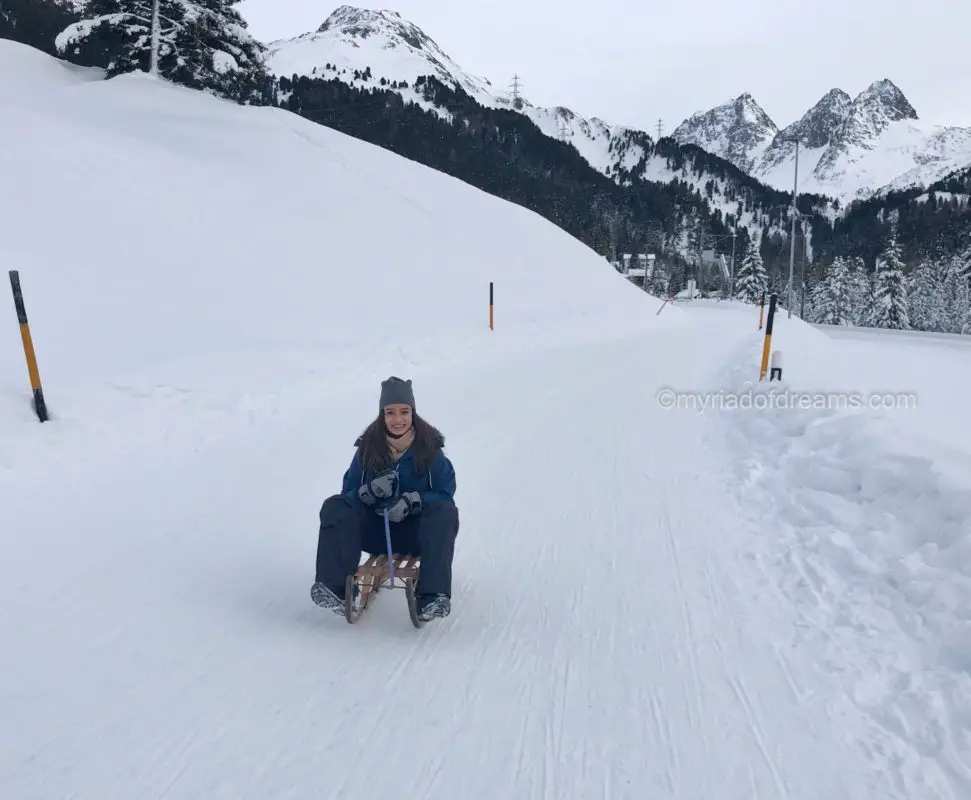 10. SLEDGE AGAIN OR EXPLORE THE VILLAGE
If you wish to go sledging one more time, buy the ticket again from the machine and follow the same steps. If you do not want to sledge again, walk around the village and explore the countryside of Switzerland.
Note: Apart from Bravuogn – Preda Sledge run, there is Darlux Sledge run. At the end of Preda – Bravuogn Sledge run, a chairlift takes you to the top of the mountain. And when I say top, I mean really really top. The views are definitely incredible but the Sledge run is not easy.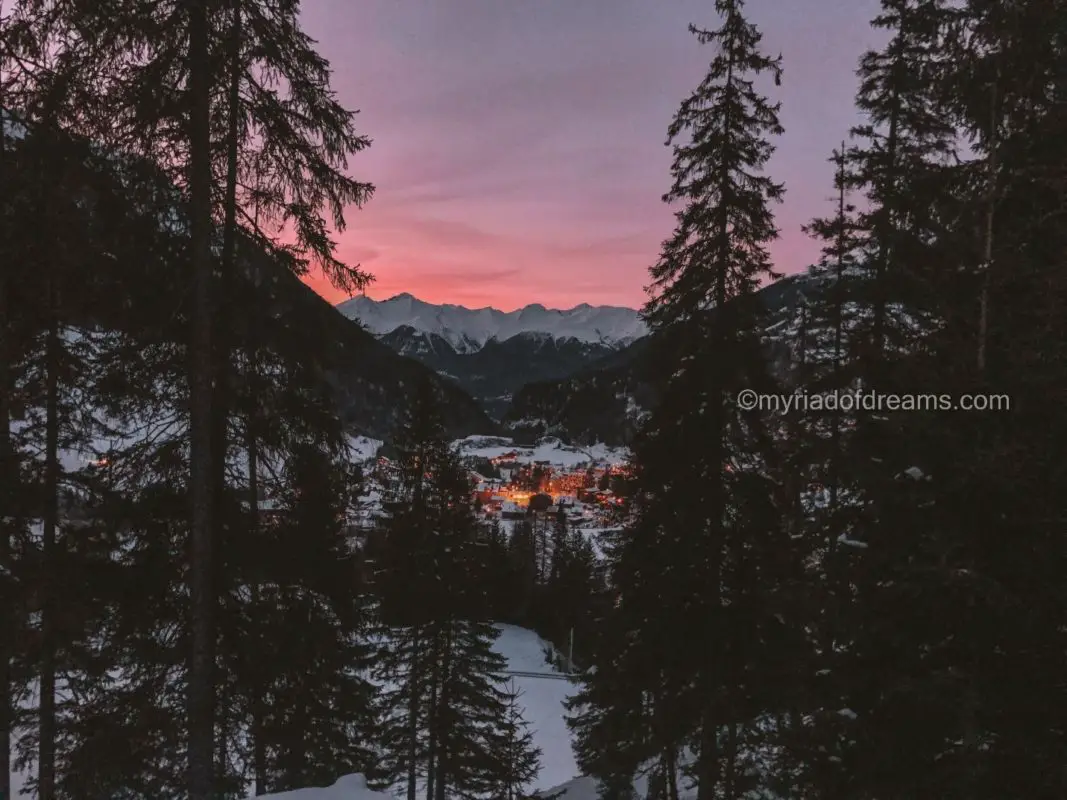 Only take this Sledge run if you are an expert. The run is extremely bumpy and slippery with a lot of hairpin turns. A separate ticket is required for this. If you have a day pass, Darlux Sledge run is included in it.
11. RETURN YOUR SLEDGE AND HEAD BACK TO ZURICH
At the end of your day, return the sledges to the rental shops and head back to Zurich. The day trip to Filisur and Bravuogn is definitely hectic but so worth it. Once you are in the snowy beautiful mountains, everything around you looks like magic.
There are many day trip options to take from Zurich but nothing is as beautiful and underrated like Filisur and Bravuogn. Make sure to include these gems in your Switzerland itinerary.
IMPORTANT MUST KNOWS BEFORE YOUR DAY TRIP FROM ZURICH TO BRAVUOGN AND FILISUR
There are two viewing platforms for Landwasser Viaduct: South and North.
North viewing platform is better than the South viewing platform.
There are two sledge runs from Bravuogn (Bergün): Bergün – Preda and Bergün – Darlux.
Bergün – Darlux sledge run is for experts and not for beginners.
Beginners should stick to Bergün – Preda sledge run.
Night sledging takes place at Bergün – Preda sledge run from Tuesday to Sunday.
Sledge run operating days depends on the weather and snow. You can check the operating days and time here. 
Wear insulated and waterproof clothing while sledging.
Gloves, hat and snow boots are a must while sledging.
FAQS
Q. CAN I REACH LANDWASSER VIADUCT VIEWING POINT BY CAR?
A. No, you cannot reach the viewing point by car. The only way to reach there is by foot. You will have to park your car at the nearest parking place (Landwasserviaduct Parkplatz) and walk for 20 to 30 minutes to reach any of the two viewing points.
Q. FROM WHICH VIEWING PLATFORM ARE MOST OF THE PICTURES OF LANDWASSER VIADUCT ARE CLICKED, THAT WE SEE ON SOCIAL MEDIA?
A. Majority of the pictures of Landwasser Viaduct that we see on social media are taken from the North viewing platform.
Q. WHICH VIEWING PLATFORM IS TOUGH TO REACH?
A. Reaching none of the viewing platforms is back-breaking. The walk to both the viewing platforms is easy if you are wearing comfortable shoes. But, the walk to the north viewing platform is a bit longer than the walk to the south viewing platform.
Q. WHICH TRAIN PASSES THROUGH THE LANDWASSER VIADUCT BRIDGE? HOW CAN I TRAVEL ON THAT TRAIN?
A. The famous Glacier Express passes through the Landwasser Viaduct Bridge. It is the slowest express in the world, but it offers one of the most picturesque train rides in the world. You can book your tickets to the Glacier Express here. 
Q. I DO NOT KNOW HOW TO SLEDGE. CAN I STILL DO IT?
A. Yes, you can. This was my first time sledging too. I was hesitant at the beginning but real quick it turned into excitement. Just keep the following things in mind:
Stick your left foot in the snow to turn left and right foot to turn right.
Whenever you feel the need to stop, put both your foot down and pull hard on the rope while leaning backwards.
Go sledging only on Bergün – Preda Sledge run.
Darlux sledge run is not safe for beginners.
Q. CAN I REACH PREDA BY CAR OR ON FOOT FROM BERGÜN?
A. No, the only way to reach Preda is by train. The nearest parking place to Preda Is Bergün. You can park your car in the parking space in front of the train station for 5 CHF.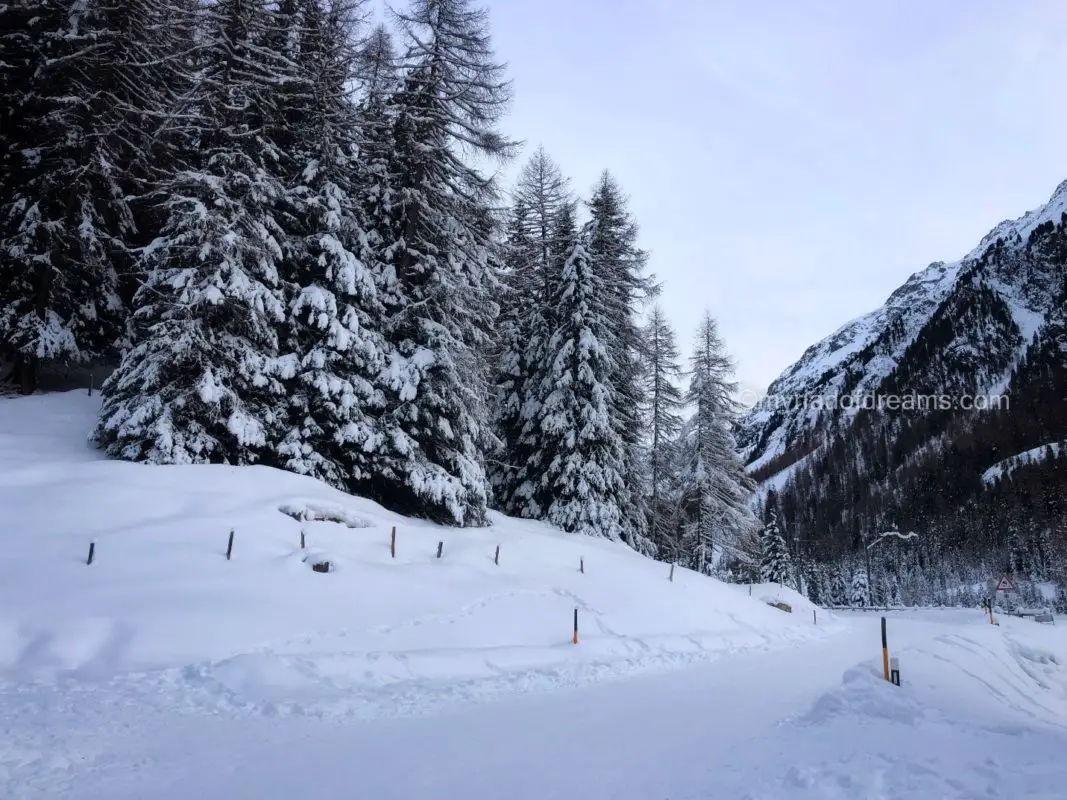 OTHER DAY TRIP IDEAS FROM ZURICH
Day trip to Jungfraujoch: When you are in Switzerland, a visit to Jungfrau is a must. You can visit the top of Europe on a day trip from Zurich. Book your tour here. 
Day Trip to Grindelwald & Interlaken: Grindelwald and Interlaken are two scenic jewels in the crown of Switzerland. A day trip from Zurich is an efficient way to explore the countryside. Book your tour here. 
Day trip to Lucerne and Engelberg: Another great option for a day trip from Zurich is a visit to Lucerne and Engelberg. Book your tour here.
Recommended Travel Guides to feed your Wanderlust
If you enjoyed reading the above post, you might also enjoy the following.
Germany : Neuschwanstein Castle: Day trip from Munich
Austria : 3 Day Vienna Itinerary: What to do in Vienna, Austria in 3 days
Austria : Top Ten Things to do in Vienna, Austria
Turkey : Must Visit Places in Istanbul, Turkey-3 day itinerary
Turkey : 10 Day Turkey Itinerary: A Complete Guide
PIN FOR LATER