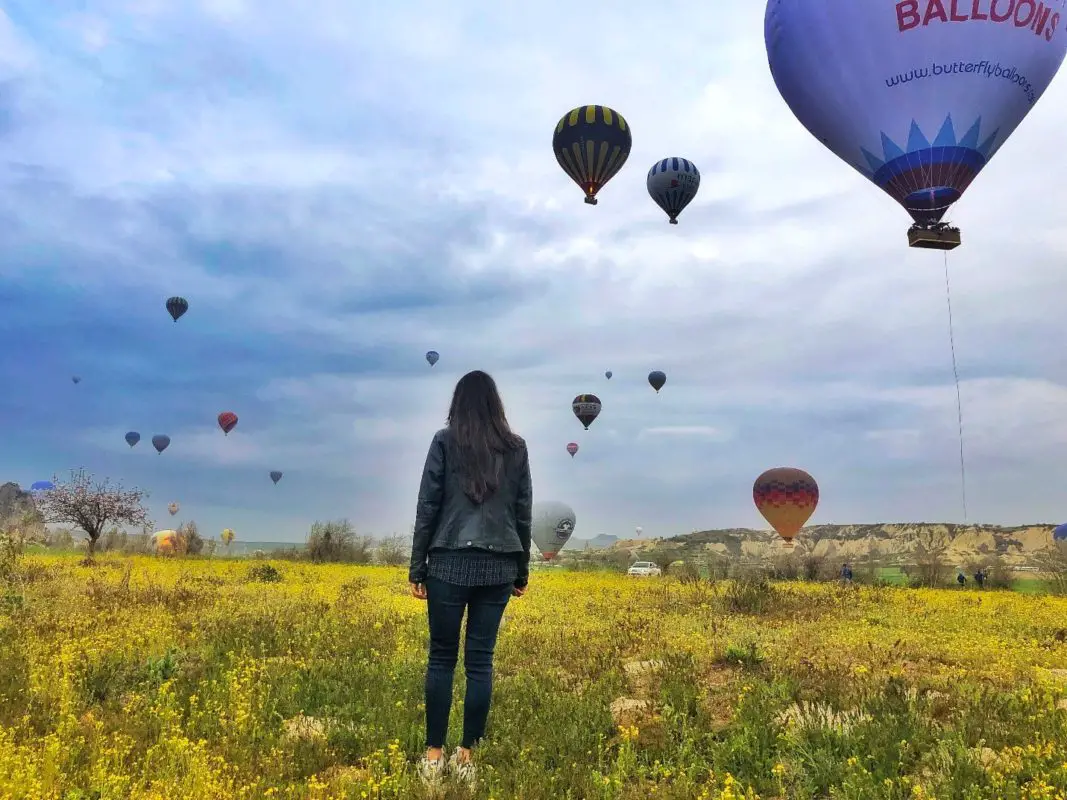 When it comes to beautiful and instagrammable places in Cappadocia, the historical region will never disappoint you. It won't be an overstatement if I say you will fall head over heels for Cappadocia, the very moment you step in.
Nature has bestowed upon its blessing to this little jewel of Turkey, which feels no less than a wonderland.
It is famous for its hot air balloons, and fairy chimneys but there are so many other hidden beauties in this mysterious land. There are so many things to do and places to visit in Cappadocia that finding where to start can become a real challenge.
To help you find the perfect places to visit in Cappadocia. I have created a list of the most beautiful and photographic locations in Cappadocia.
BEST TIME TO VISIT CAPPADOCIA
Cappadocia is beautiful throughout the year, but the best time to visit is:
April – June
September – October
June to September is the peak season in Cappadocia and therefore expect high booking rates.
July and August are the hottest months of the year and hiking can get a bit uncomfortable, if you are not used to hot and dry weather.
Winter in Cappadocia is wet and windy, but the snow-covered landscape looks exceptionally impressive, especially during a hot air balloon flight. But due to windy weather, the chances of the balloon flights getting cancelled is also high in winters.
I visited Cappadocia in late April, and I found it marvellous. The tourist attractions were not heavily crowded, and the weather was great. Out of my three days stay in Cappadocia, I was lucky enough to take a hot air balloon flight on one of the days as the flight got cancelled the other days due to bad weather conditions.
HOW LONG TO STAY IN CAPPADOCIA?
I would recommend no less than 2-3 days in Cappadocia.
I stayed in Cappadocia for 3 days and 2 nights. Anything less than this would be insufficient. Try to spend at least 2 mornings in Cappadocia, so that if the hot air balloon flight gets cancelled on the first day, you have another morning to try.
Cappadocia is enormous, and it has a lot to offer. From moon-like landscape to underground cities, Cappadocia will keep you amazed throughout your stay.
Save this on Pinterest to read it later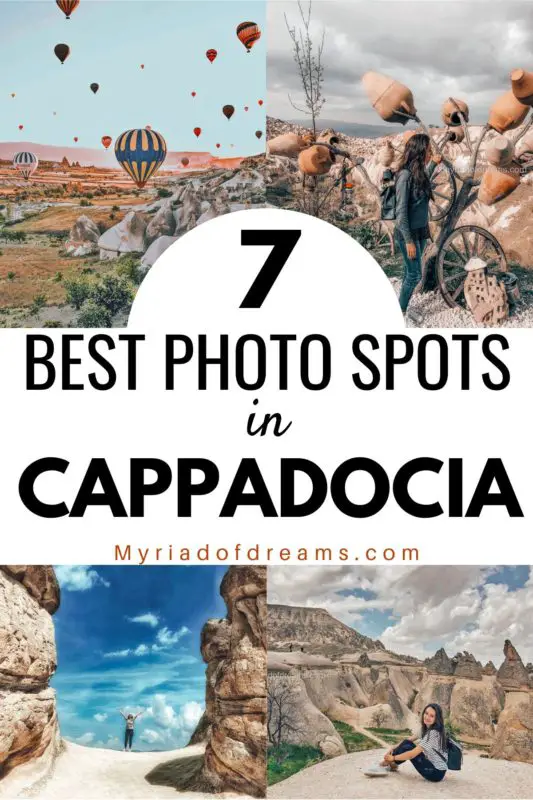 Disclosure: This post contains affiliate links. If you click one of them, I may receive a small commission at no extra cost to you.
THINGS TO KNOW BEFORE YOU VISIT CAPPADOCIA
Cappadocia is not a city, but a historical region. It comprises of many small towns.
Majority of the visitors to Cappadocia stay in Ürgüp or Göreme. These are the two famous towns in Cappadocia, to book your stay.
Göreme is famous for fairy chimneys and cave hotels.
Ürgüp is the biggest town in Cappadocia and is the perfect place to find accommodation if you want to stay away from the main tourist area.
The nearest airports to reach Cappadocia are Nevşehir Kapadokya Airport and Kayseri Erkilet Airport.
You need to book the hot air balloon flight in advance. Only a limited number of balloons fly each day, and they get filled pretty quickly.
Hot air balloon flights are not cheap (another reason to pre-book them). The last-minute tickets (if there are any) are the most expensive.
The hot air balloon flight depends on the weather. It only flies if the weather permits.
Cappadocia is more than just hot air balloons.
Just like balloon rides, the cave hotels in Cappadocia get occupied super quick. I advise you to book a cave hotel 3 to 4 months in advance, especially if you are travelling in the peak season.
Wear comfortable shoes, as exploring Cappadocia means a lot of walking and hiking.
Apart from the exceptional landscape, Cappadocia is also famous for its wineries.
Testi Kebab, also known as Pottery Kebab, is a traditional and native dish to Cappadocia. Meat and vegetables are slow-cooked in sealed clay pots and are cracked open at the serving table. It is a must-try delicacy.
7 MOST BEAUTIFUL PLACES IN CAPPADOCIA
1. ROSE VALLEY SUNRISE POINT
Rose Valley is famous for its beautiful landscape. It remains busy throughout the day, but gets extremely crowded, at sunrise and sunset.
Rose valley sunrise will spoil your future sunrise experiences for sure.
At sunrise, you can also see hundreds of balloons in the sky which makes it a sight to watch.
Unfortunately, the balloon rides were cancelled the day I went to Rose Valley due to weather conditions.
But even without the balloons, it was the most beautiful sunrise I have seen in my life.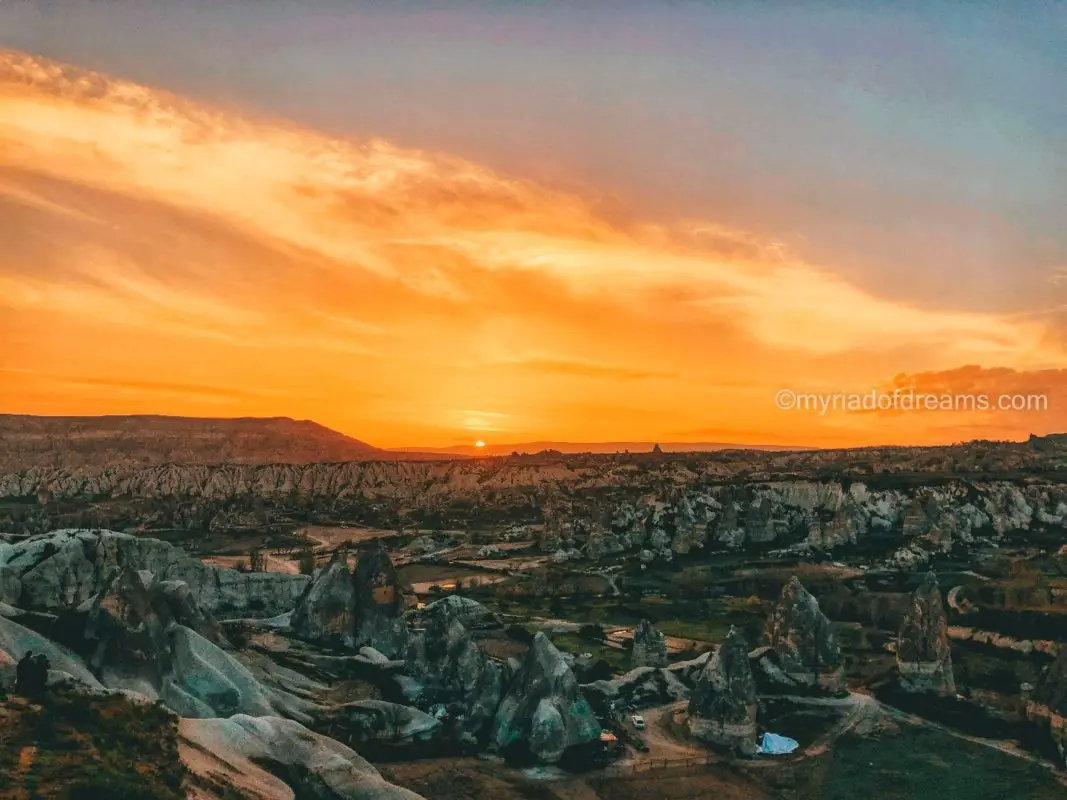 Many people come to Rose Valley to watch the sunset, which is undoubtedly beautiful but I would recommend not to miss this place in the morning.
If you are in a dilemma, watch sunrise and sunset both.
If you want to enjoy the landscape, come early and stay for a while after sunrise and watch the sky and rocks change colour. You can reach Rose Valley easily on foot if your hotel is in Goreme.
2. GALERIE IKMAN
This place is a hit with social media users, and you won't wonder why once you enter the shop. This is a carpet shop but serves as a studio (all thanks to social media).
This is an open roof shop with its walls and floor completely draped in Turkish carpets.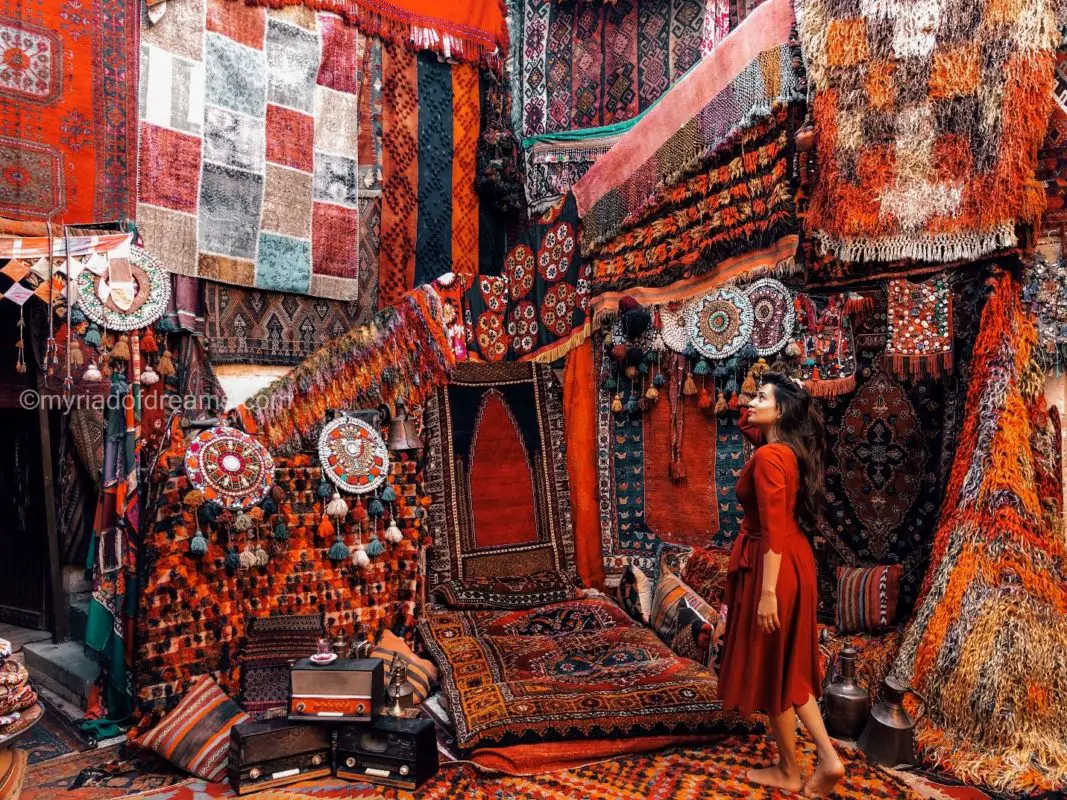 The main objective of this shop, like any other, is to sell its carpets to the customers. But due to its excellent Turkish feel, vibrant colours and photogenic look, it has turned into a must-visit place in Cappadocia to get the perfect viral pictures.
If you buy some carpets from the shop, the owner would be more than happy to let you click pictures all day long.
But if your only intention is to click pictures, kindly take permission from the owner and pay him some money. They also let you click pictures using a drone at an extra cost.
3. NAR LAKE
Nar is the Turkish word for Pomegranate, and hence it is also called Pomegranate lake.
It is a crater lake formed due to a volcanic eruption in the not too distant past. The water is rich in Sulphur and therefore used for therapeutic purposes.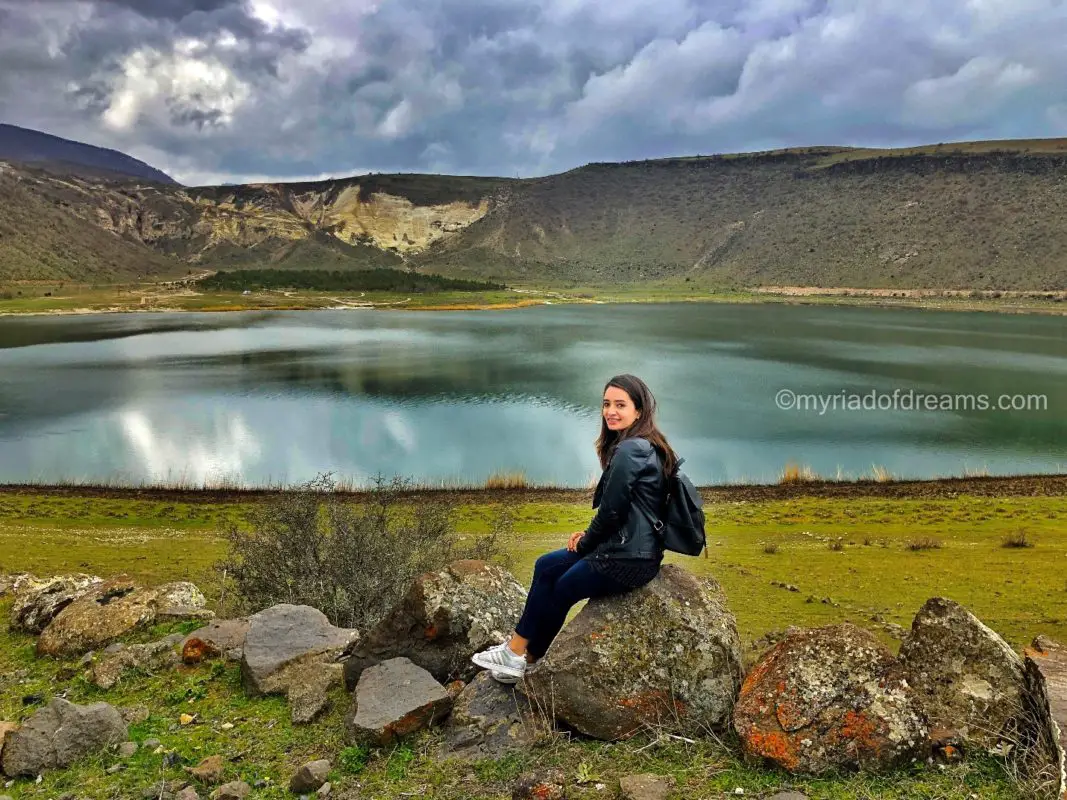 It is a beautiful place to stop by for some time and take pictures. This lake is not famous amongst tourists and therefore not crowded. You can enjoy your time with nature sitting by the side of the lake.
If you want to bathe in the sulphur-rich hot water, you can use the pool of a Thermal Hotel near the lake. They pump the water of the lake to their pool for swimming and bathing.
4. PASABAG
Pasabag also called as Monk Valley is famous for its mushroom-shaped fairy chimneys.
These fairy chimneys are different from rest of the fairy chimneys of Cappadocia as these are double or even triple-headed.
Take some time to explore the area, and you will find many picturesque locations to get the best shots. Follow the path to the top of the ridge to get the best view.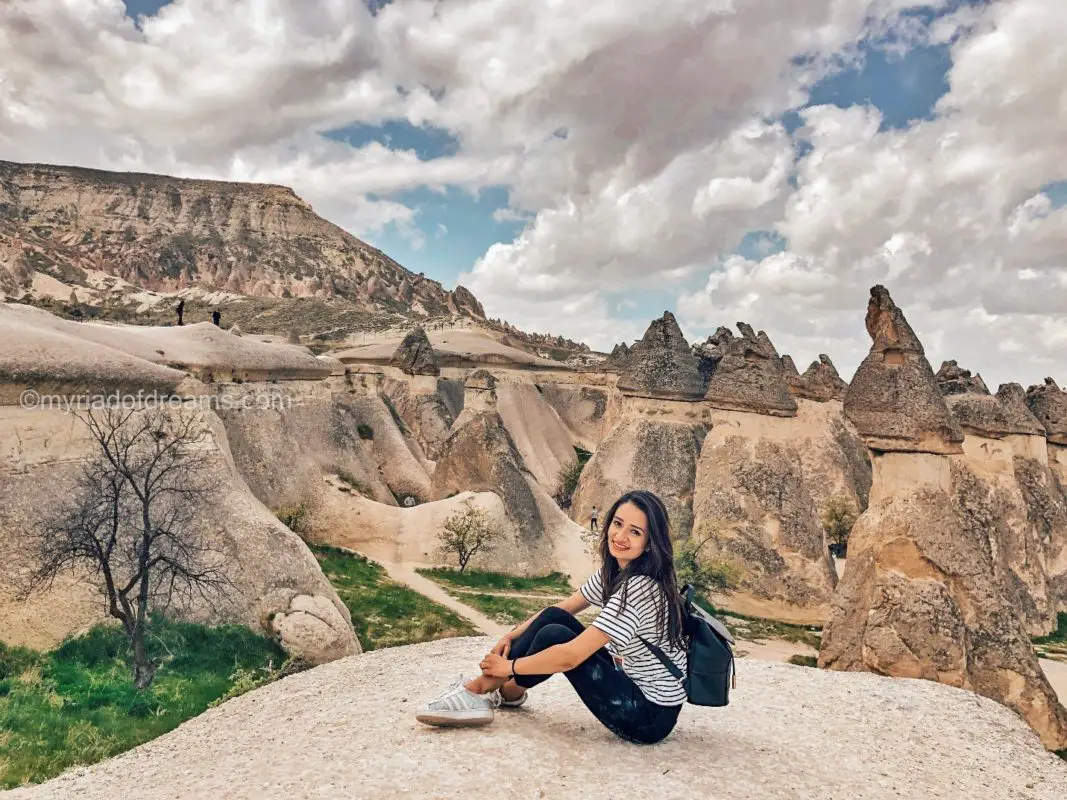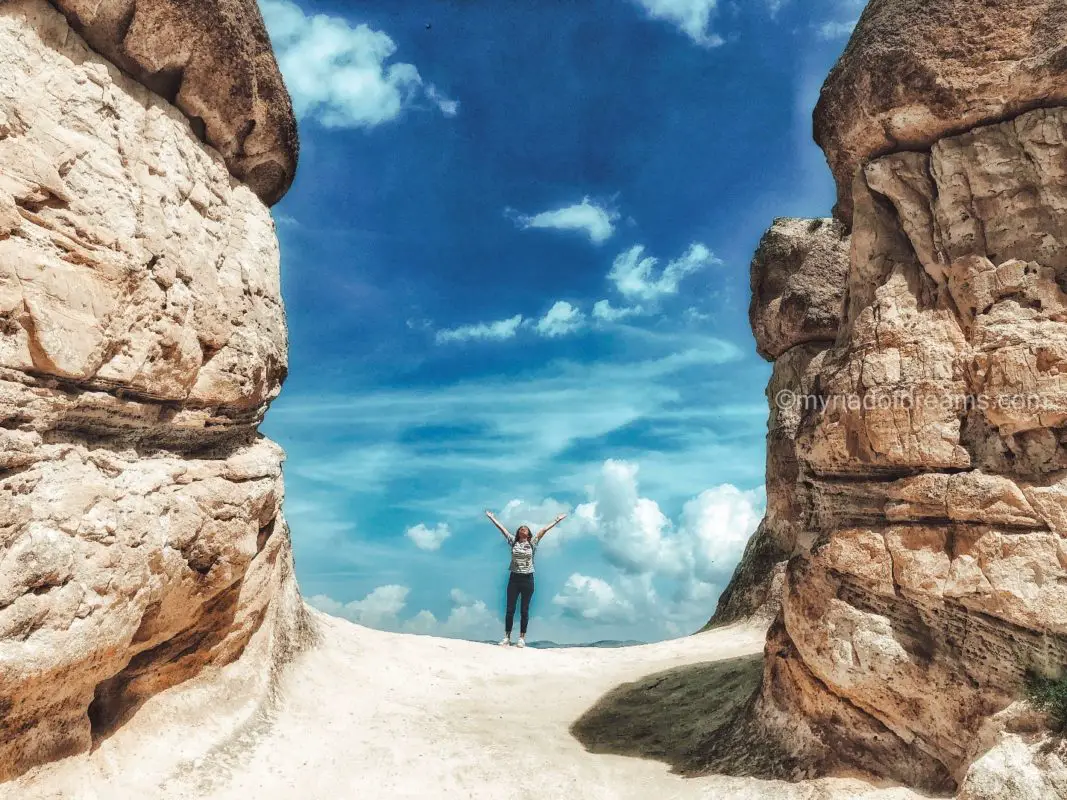 There is one another thing which makes Pasabag so unique, and that's a fairy chimney police station.
On the other side of the road, you can find a policeman standing in front of the unusual police station. You can also have a look from the inside if you wish to.
5. HOT AIR BALLOON RIDE AND HOT AIR BALLOON LANDING SITE
Do what Cappadocia is most famous for, take a hot air balloon ride.
Watch hundreds of balloons dance to the tune of wind while rising high above the ground with every passing minute.
You will not look at the sky the same way once you take a balloon flight.
Being up in the sky will not only give you a magical feeling but will also provide you with the most stunning views.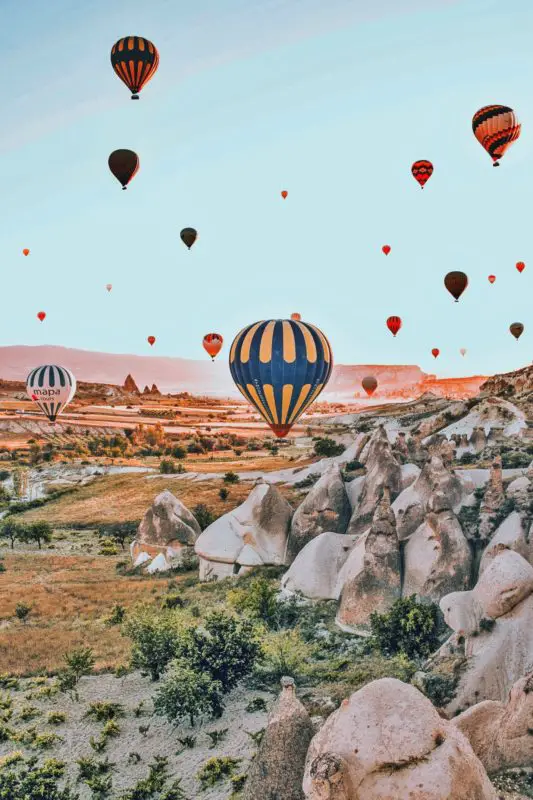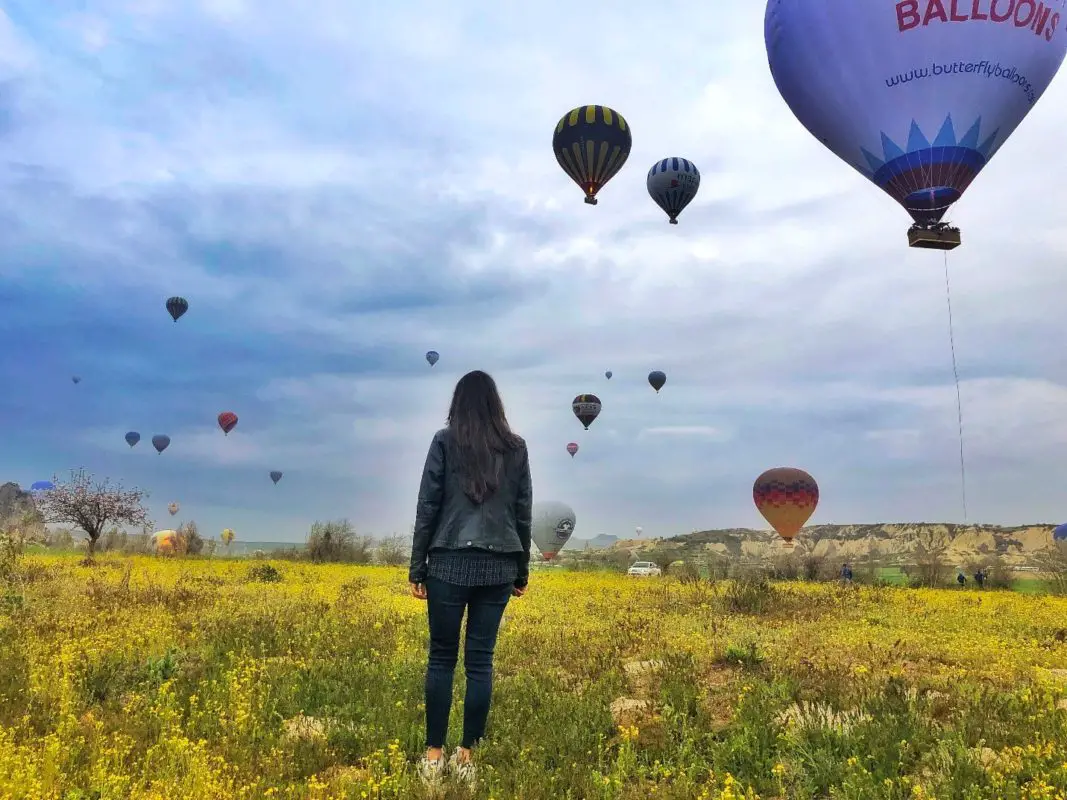 Watching the hot air balloon land and taking a hot air balloon ride are absolutely two different experiences.
Apart from taking a hot air balloon flight, also visit the landing site.
The balloons have different landing sites depending upon the direction of the wind. Before heading to a site ask the balloon company or your hotel manager about the landing site for that particular day. Taking advice from locals never hurts.
6. CAVUSIN VILLAGE
It is an old village between Avanos and Goreme. Many people used to live in the rock-cut cave houses in this village. But with time these houses were abandoned due to weathering and falling rocks.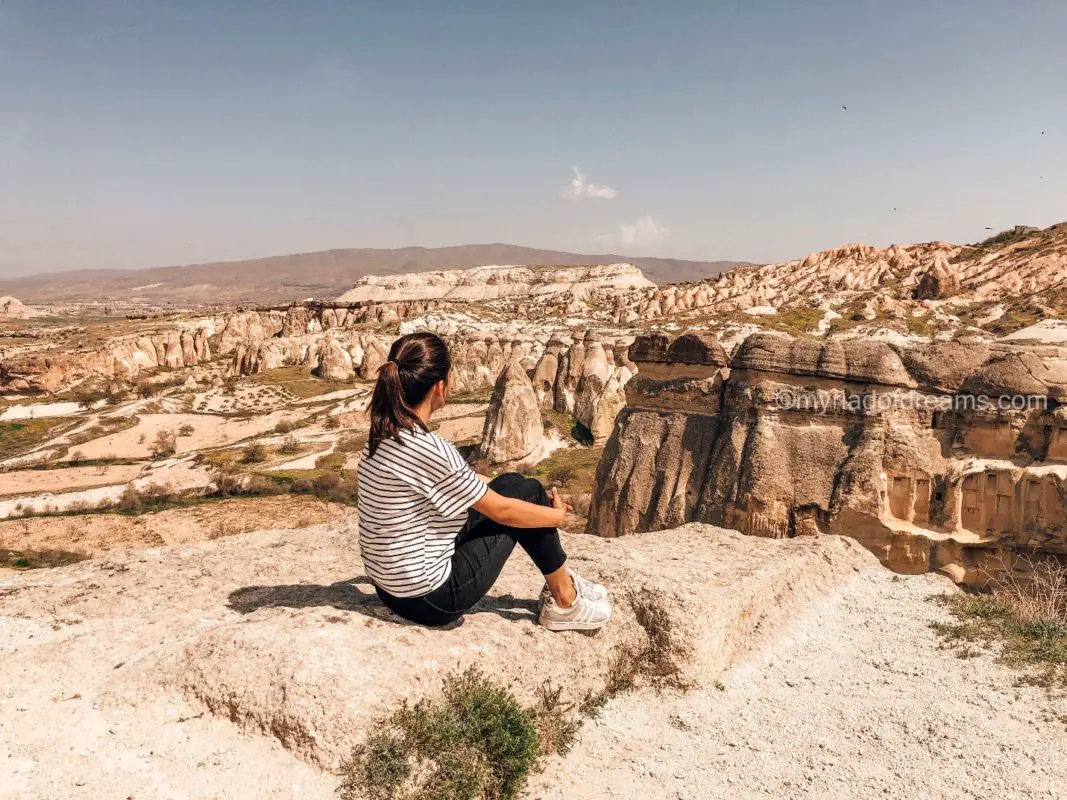 The villagers were evacuated and moved into new safer houses. Today you can see many abandoned houses in the area. Not many tourist visits this little village but those who do take in the real Turkish views.
7. PIGEON VALLEY
Pigeon Valley, also known as Guvercinlik Valley, is located between Uchisar and Goreme.
The valley got its name from thousand of Pigeon Houses that are carved into the soft caves.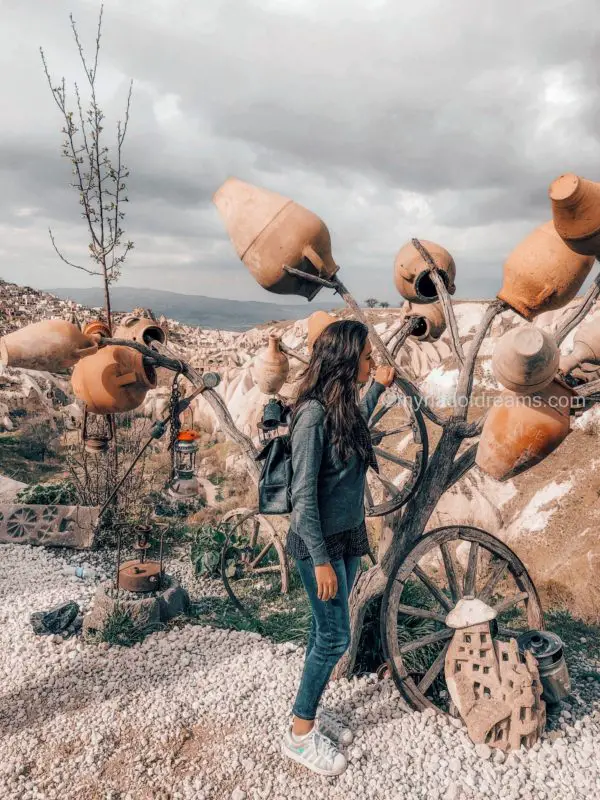 In the earlier days, when there were no chemical fertilizers, Pigeon dungs were used as fertilizers, and thus, pigeons were well taken care of in this valley.
Although today the pigeon's dung has lost its importance but yet you can see many pigeons flocking in the valley.
BEST TOURS TO TAKE IN CAPPADOCIA
South Cappadocia Full-Day Green Tour with Trekking: Explore the underground Derinkuyu city , Ihlara valley and other moon like landscapes of Cappadocia.
Full-Day Cappadocia Blue Tour with a Small Group: Hike through the beautiful valleys of Capppadocia, while a knowledgeable tour guide tells you about the historical significance of the place.
Full-Day Cappadocia Red Plus Tour: This is the most famous tour to take if you have limited time in Cappadocia and want to experience the best in less time.
VISITING MORE PLACES IN TURKEY?
If you plan to explore more of Turkey, check these out:
Cappadocia : 10 Things to do in Cappadocia, Turkey
Antalya : Best things to do in Antalya ,Turkey : The ultimate guide
Istanbul : Must Visit Places in Istanbul, Turkey-3 day itinerary
Turkey : 10 Day Turkey Itinerary: A Complete Guide
RECOMMENDED TRAVEL GUIDES TO FEED YOUR WANDERLUST
If you enjoyed reading the above post, you might also enjoy the following.
Germany : Neuschwanstein Castle: Day trip from Munich
Germany : 2 day Hamburg Itinerary – Best things to do in Hamburg, Germany.
Austria : 3 Day Vienna Itinerary: What to do in Vienna, Austria in 3 days
Switzerland : Best day trip from Zurich, Switzerland
PIN FOR LATER